Creative Sound Blaster Jam detailed review
I really, really want to shower accolades on the Creative Sound Blaster Jam. I want to post its photo on my Facebook newsfeed and Twitter timeline and urge people to buy it if they're looking for a pair of no nonsense wireless headphones. I want to pick up multiple units and keep them around so that I can gift them to the people I actually care about.
The above summed up my feelings about the Jam, the first few hours I used it. Here was a light, comfortable pair of headphones that just worked straight out of the box and left me unencumbered by the annoying wires that belong to my regular pair of earphones, all the while delivering good, not the best, but good nonetheless, audio quality.
Now, after about three days of using the Jam, I don't feel so evangelical any more. It's not that the Jam is a bad product; no, in fact it's an admirable one, one that more or less does what its price suggests. It's just that it has a lot of weaknesses too and over the course of my review, these issues robbed the sheen from my pure adoration for the Jam, leaving behind a dull sort of glow.
This is the story of how my love for the Creative Sound Blaster Jam gradually devolved into mere acceptance.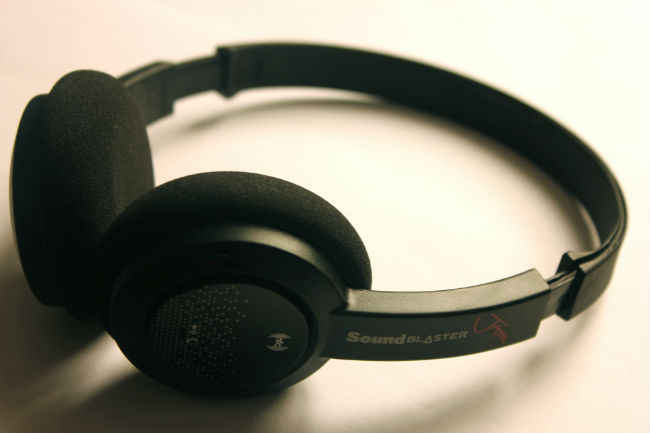 Day One: Everything is (more or less) Awesome!
The first time I gently removed the Creative Sound Blaster Jam from its packaging, I was not impressed. The Jam represented everything I hate about modern tech design; it was built out of black plastic and looked overtly utilitarian as if it was designed by someone who learnt aesthetics in a Soviet school of design. It also felt flimsy and when I held on to one of the earpieces and shook it, I thought it did so with every intention of disintegrating into pieces.
However, my initial impression of the Jam soon proved to be inaccurate at least with respect to the build (I still maintain that the Jam looks like it was fashioned out of an old Maruti 800's dashboard). The Jam may not feel as solid as a brick but it's also really light which means that it can take some amount of abuse since almost every part of its body can flex to some degree. You cannot fold the Jam to make it easier to carry around but you won't really feel its weight whether you have it wrapped around your neck or in place on your head playing music.
I really can't understate how comfortable and invisible the Jam tends to be. Its earcups are cushioned with light foam and after the first ten minutes, it's easy forget that you actually have a pair of headphones on your head. Of course, add to that the complete absence of any wires, and basically what you get in the Jam is ultimate portability.
The Jam is also incredibly easy to start using. If you have an NFC enabled phone, just tap the phone against the back of the Jam's right audio driver and your phone will be connected. If NFC isn't an option, just use Bluetooth to do the same. Further adding to the usability are the buttons placed on the back of the right audio driver that let you control the volume and turn on the bass enhancement. These are small buttons but are easy to get used to so that you'll be comfortable using them without needing to actually look at them. These smaller buttons surround a large central button that's used to play/pause music, receive calls and enable Bluetooth pairing. When I started using the Jam, I loved this button and how it let me quickly and easily pause a song. I also liked the size and tactile feedback of the button which meant that there was no learning curve before I was comfortable with it.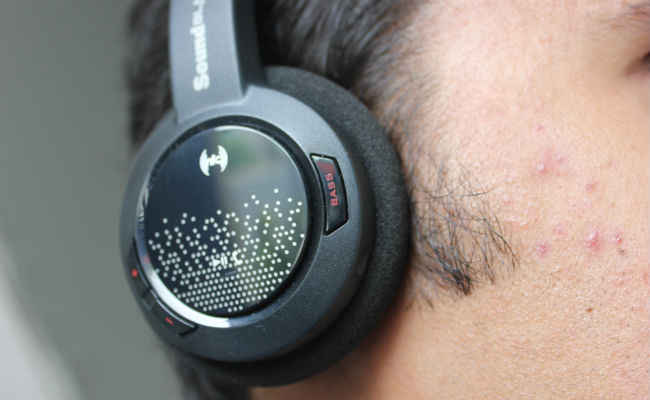 Since the bass boost button is so prominent, I thought I'd get the headphones rolling out of the gate with some club thumpers. The Jam is pretty generous when it comes to bass heavy tracks especially with the bass boost on. The bass doesn't have much in terms of punch but does justice in terms of expansiveness and soundstage. At times when there were too many instruments in the mix, things got muddled but overall, I thought that the Jam did a good job reaching a balance between performance, portability and economics.
The Jam is also able to receive calls and even without a protruding mic, it was able to capture my voice well without the party at the other end complaining of distortion, static or echoes.
To sum up a decent day overall, the Jam's battery lasted the entire day even though I had it playing music almost continuously from about 11 in the morning to about 12 at night (it ultimately managed to deliver sixteen hours, an impressive number by any account).
Day Two: Things Fall Apart (not literally, of course)
So, when did this love story turn sour? It started on the morning of the second day when the play/pause button started acting up. The button would sometimes work, sometimes not, sometimes it would wait a full three or four seconds before it actually did something, while sometimes it would not do anything for a such a long time that I would go on a clicking tirade like a madman.
Update: Following our review, the company sent us a second unit of the Sound Blaster Jam and the buttons have been working fine on this new one.
As part of the Jam review, I had to play music that belonged to genres other than the ones that the headphones was comfortable with. I started off with genres that usually elicit average or subpar performance from most average headphones and sure enough the Jam did not have a good time playing Jazz or Rock. The problem with the Jam is that mids almost always sound muddy on it and when you have music that encompasses highs, mids and lows, altogether, everything sounds jumbled up. I played some Soundgarden, Black Keys and Arctic Monkeys and the auditory experience was far from ideal. Our Jazz test track (Freddie Freeloader by Miles Davis) has a solid bassline complemented by sensitive, shimmering cymbals and the Jam made somewhat of a mess by cutting off the bright highs before they could reach their peak. As a result, it almost sounded like I was getting about 60% of the actual experience of the song.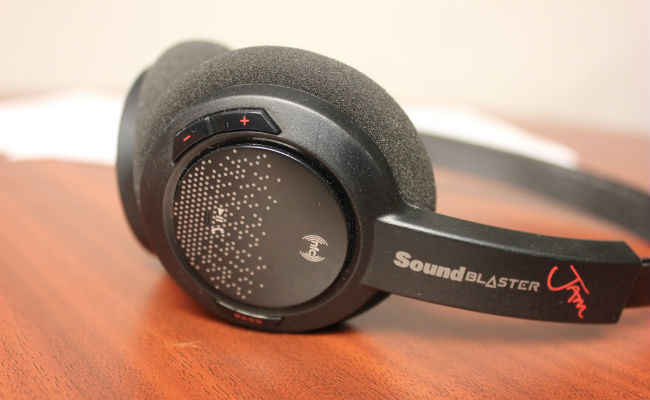 The Jam manages to deliver decent volume and at 100%, it's loud enough for anyone. However, I must point out that the Jam's 100% volume level is equivalent to about the 80% mark of more powerful headphones; so, if you're particularly hard of hearing, you may not be satisfied by the Jam (although if your hearing problems are caused by listening to music at 100% volume, then you may want to stay away from headphones altogether).
Finally, even though the Creative Jam feels perfectly comfortable on your head, its plastic band makes things uncomfortable when you have it placed around your neck. The plastic tends to dig into your skin and makes you want to constantly shuffle as if you've got a centipede running down your back.
Day Three: Taking Stock
There you have it, folks, a quick look at how the relationship between a reviewer and a product starts off great and then often falls into a state that emulates a regular marriage. I imagine a conversation between me the Creative Sound Blaster Jam to go along the lines of me telling it, "It's not me, it's you", because it truly is. The Jam shows a lot of potential, and it delivers on a lot of that potential. It's great in terms of portability and if you're looking for exactly that, I can recommend it but only because there aren't too many great alternatives in the market. However, for Rs. 3,499, it has a lot of weaknesses, the primary of which are its build quality and inconsistent performance. Thus, if you don't mind paying more, check out the Jabra Move or the Sennheiser 110 II instead.
Creative Sound Blaster Jam Key Specs, Price and Launch Date
| | |
| --- | --- |
| Price: | |
| Release Date: | 10 Jun 2015 |
| Market Status: | Launched |
Key Specs
Playback Time

NA

Frequency Range

NA

Channels

NA

Dimensions

NA