VERDICT:
The Corsair Gaming H2100 is a robust, well-built gaming headset that lets you indulge in gaming without the hassle of wires and exceptional expenditures.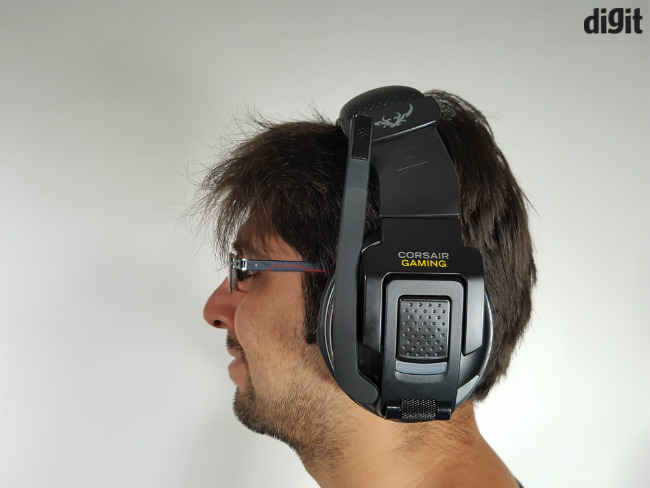 Build, Design and Comfort
The Corsair Gaming H2100 are one of the biggest headsets (at least in size) that I have used till date. The ear cups are large, with ample overhead cushioning and a retractable microphone that looks rather large. The size works well in giving a very comfortable fit, and the headset does not feel too heavy or uncomfortable. The grip in the headband is just right, and did not set itself too tightly. I used the headset for regular, five-hour gaming sessions in a non-air conditioned environment with just the ceiling fan on, and the Corsair H2100 did not make me sweat as much as I would have expected from average over-ear headphones. The microfibre layer over the cushion on the ear cups helps make the headset more breathable than plastic or all-leather padding.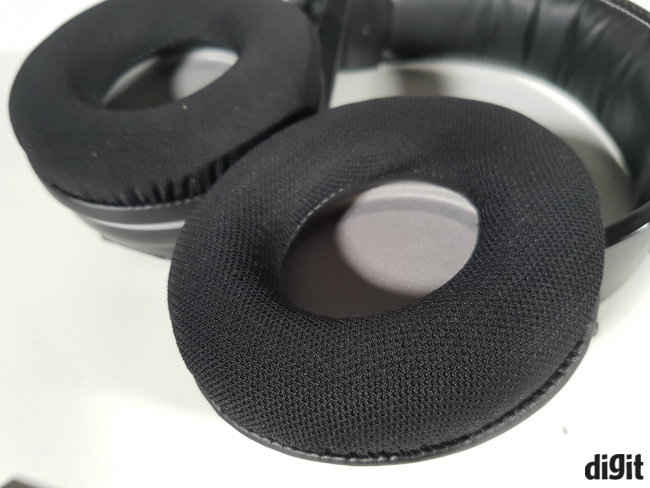 From what I have seen so far, every other gaming headset has over-the-top design elements, ranging from fluorescent colour schemes or funky vinyl patterns. For the H2100, however, Corsair has kept the design quite understated. While Corsair does sell these headphones with yellow accents around the earcups (a common theme for Corsair's new lineup of gaming pheripherials), the particular headset I received had grey accents. The headset houses a large power button on the left earcup, with an LED indicator right below it. There is a volume roller to the left side as well, which provides reasonably accurate volume adjustment from the headset itself. Note: This actually controls the master volume for Windows.
The H2100 is wireless, and comes with a standard USB dongle, which is accompanied by a long, wired stand. The headset charges via a microUSB port situated on the left earcup, and is equipped with an LED light, which indicates charging and fully-charged states by blinking red and green, respectively.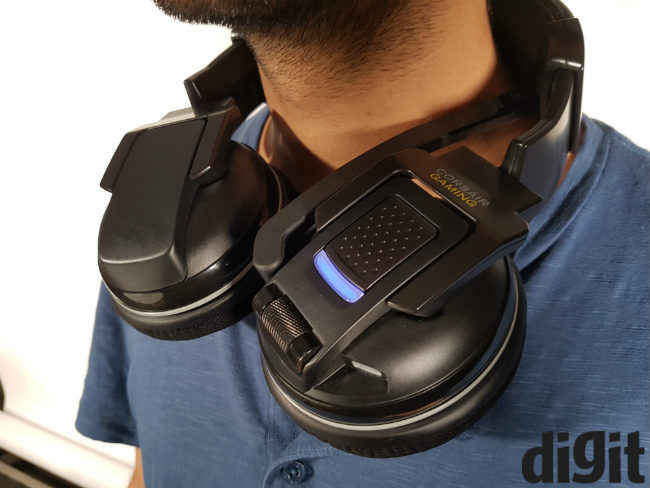 Audio Performance
The Corsair H2100 claims to offer 7.1 surround audio in gaming, and it does deliver. The headset features a pair of 50mm drivers, offering one of the best surround sound audio experience among its peers, at this pricing. I played games like CS:GO with 5.1 surround sound on, and the dual-driver setup delivered decently well. Going through the spiral staircase in the 'Dust' map, I was easily able to hear footsteps in front of me as well as behind me, quite distinctly. I was also easily able to figure out the direction of the gunfire with my eyes closed, which is a good thing. Similarly, the rattling of guns in Battlefield 3 is much more immersive compared to a normal stereo headset. I also tested the headset in games like Tom Clancy's Division with surround sound audio enabled. As far as dialogues are concerned, the H2100 does not disappoint. For example, in Tom Clancy's Division, while standing in the post office (base), the different voices around my character are distinctly audible and give you a sense of immersiveness. Distinct comtion noises, like Rikers taking on a JTF squad in the next alley are easily recognisable, and you can sense where the noise is coming from. All in all, the H2100 is amply loud and clear, at the same time. While the frequency distribution could have been better if the headset offered separate drivers for different channels, it is acceptable at this pricing. I would also like to mention that the headset does not provide a proper seal to the lower end of the ear cup, which may translate into noise leakage.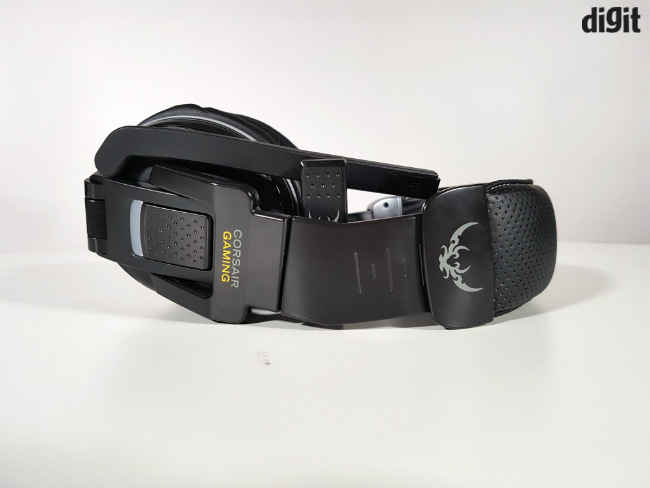 The supplied software is easy to use, and offers gaming presets like FPS, MOBA, etc, which actually make a difference in the in-game audio. Users can make their custom presets according to their liking. The headset also features a rather large microphone that extends from the left earcup. It is easy to use, and records clear, in-game audio. One intuitive feature that I really liked is that by folding the mic back, it gets muted, which comes very handy during in-game communications.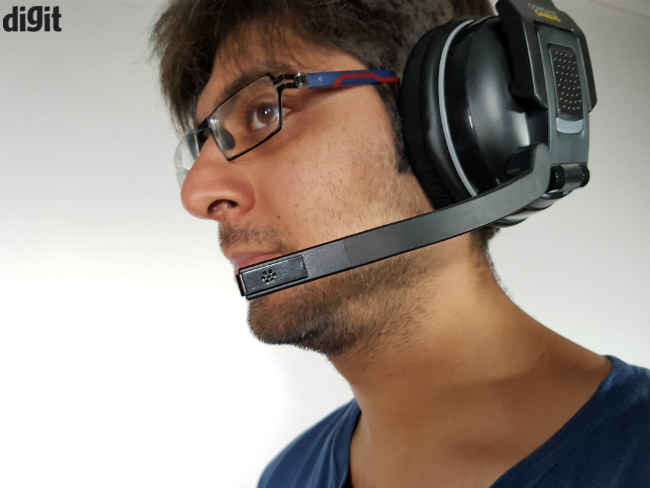 In terms of dedicated music quality, the Corsair H2100 sounds amply loud, with particular emphasis to the mid frequencies. It sounds rather hollow, which is not surprising. The bass does not seem too tight, and highs are loud but not too detailed. Soundstaging is elaborate, which is a good thing. With this one, you can listen to music occasionally, possibly when you take a break from gaming. The large build does not make the music-listening too engaging, but on an overall note, it is decent. It is, to sum up, as much as you would expect from a pair of gaming headphones.
Connectivity and Battery life
The Corsair Gaming H2100 provides excellent wireless connectivity within a distance of 20 feet and three walls in between the source. Without any walls or doors in between, the headset sustains connectivity up to nearly 35 feet, which is more than enough for any average gamer. All that it requires is for an 8MB software to be downloaded, and after that, it's just plug and play.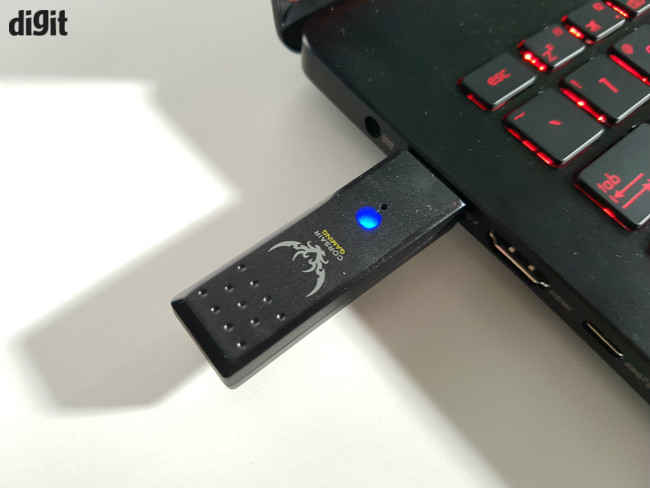 On the battery front, the headset secures consistent nine hours of audio output without much hassle. When it is about to discharge completely after having been used for more than seven hours, it starts beeping, and this gets annoying after a while. Once the battery dies, it takes around two hours to charge up fully, but you can use the headset while charging it.
Bottomline
The Corsair Gaming H2100 is a robust, well-built gaming headset that lets you indulge in gaming without the hassle of wires and exceptional expenditures. While the audio quality is not too impressive, the in-game audio experience is much more likeable. It is quite comfortable, and can be used for long gaming sessions. It is definitely worth a look at, if you are buying a 7.1 wireless gaming headset, but if you can do with some tangled wires, the Kingston HyperX Cloud II is a very compelling alternative to consider.
Inputs from Souvik Das