Audio-Technica ATH-AD300: Unmatched Comfort detailed review
The ATH-AD300 was sent to us by Pristine Note for review quite a while back. One of the entry-level models from the Air series from Audio-Technica, it has a reputation in audiophile circles for being a decent value purchase. The official website, however, lists it as 'discontinued'. We were a little apprehensive about bringing these in initially, but once assured of enough stock and after market pieces were found to be available, we thought "why not". Especially since not many reviews of the product are available online.
Look and feel
For an audio enthusiast, getting your hands on a new pair of headphones is a strangely indelible experience; something that stays with you for a while. But even before actually trying them on, a few things will jump out. The lattice grill at the back of the driver cups will instantly catch your eye. What you'll also notice is the bulk - they look huge! And yet, any apprehensions about their supposed enormity disappear once you put them on. With Audio-Technica's signature wing design, the 200g weight (which is quite light to begin with) is barely felt on your noggin. If you're not used to the wing design, you might try in vain to adjust the headband to get that snug fit of regular headphone headbands. The wing design, on the other hand, is flexible and just rests on the top of your head at two points of contact.
The build quality of the headphones is a bit of a paradox. They don't seem to be badly built, but at the same time give you the impression of being flimsy. They're just too malleable, I suppose, but honestly I wouldn't risk transporting them in a backpack. Mobile usage is out of the question anyways on account of poor isolation and the fact that they don't offer enough grip on the head. A nice jerk and they'll slip off. The low pressure grip and wing design, however, make for incredible comfort. Coupled with the soft velvety padding on the ear cups you can be assured of easy listening comfort for hours. This means four-plus hours at a time without any discomfort.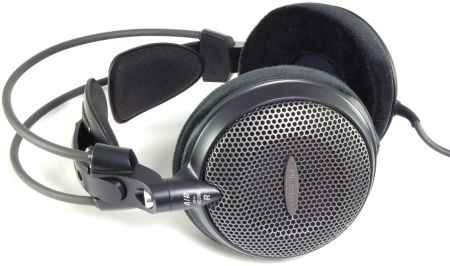 Features
The ATH-AD300 doesn't have too many features to speak of, apart from the three-meter long wire and the 1/4th adaptor bundled with the device. The wing design headband delivers great comfort.
How we tested
We used two sources for the testing this time. ASUS was kind enough to send us their Xonar Essence STX sound card; likewise Pristine Note sent us an Audinst HUD-MX1 Amp/DAC. The difference in sound quality between these two sources was not at all discernible (probably because there wasn't any) except when it came to gain levels. Since these were low impedance headphones and driving them wouldn't be a problem, we also paired them with our iPod Touch for variety.
Our test tracks included a variety of lossless songs spanning various genres, frequency sweeps, test tones for different frequencies such as 30Hz, 250Hz etc, and instrument samples like acoustic drums. We also included a few lower bit-rate encoding tracks for simulating typical use case scenarios. Here's a (very) small sample of the tracks we used and what we looked for while testing:
Porcupine Tree - Buying New Soul > Acoustic drums, soundstaging, layering
Dream Theater - Pull Me Under > Processed sound reproduction
Therion - O Fortuna > Orchestration, instrument separation, highs
Massive Attack - Angel > Bass
Between the buried and me - Selkies > Detail
Santana - While My Guitar Gently Weeps > Cello and vocals
Pink Floyd - Time > Guitar Tone, Detail
Chris Rea - My Deep Blue Ways > Vocals
Motherjane - Mindstreet > Tone, bass
Dream Theater – Wait for Sleep > Piano, vocals

While we tried to put the headphone through as many genres as possible, admittedly we are guitar heads and these were our favourite picks.
Performance
The sound on most tracks had a spacious feel to it. Being open cans, there was hardly any pressure. Hence fatigue was low but at the cost of ambient noise leaking in and vice-versa. There is little or no isolation to speak of.
We started off with the Dream Theater tracks and had the Audio-Technica M50 for reference. Lower piano chords on Wait for Sleep didn't have depth and feel. On Therion's O Fortuna, there's a marked lack of soundstaging, which is contrary to the spacious feel on most other tracks. While the sharper notes and extreme highs come through over the tightly condensed instruments, overall separation is lackluster. In spite of being open airy cans, the illusion of space is not as much. The mids are ever so slightly more suppressed than a neutral frequency response pair like the M50.
While this is not a headphone for bass-heads, to its credit we should say that it played our 30Hz sample - usually an accomplishment in itself for headphones in this price range. However the sample wasn't as hard hitting as it should have been. This is reflected in other tracks as well; with the bass sounding less impactful and a little loose even, for instance on Mindstreet. Acoustic drums in our drum sample as well as on Buying New Soul was not up to the mark. Cymbals are extremely pronounced thanks to the accentuated highs. Vocals are near-neutral, sharp, rich and pleasing. While listening to Sridhar's Transcend, the guitar tone was not as warm as some of the other headphones we've tested recently. The sound signature of the ATH AD-300 is decidedly bright, even bordering on the sibilant but most non-discerning ears won't notice anything amiss.
Verdict
The sound quality is above average and the comfort is phenomenal. At a price of Rs. 3,550 the ATH-AD300 make for a perfect maiden purchase for anyone gingerly taking their first steps into the Audiophile arena. Hardcore audiophiles may even want to consider them as a spare and welcome addition to their collection.
Specifications
| | |
| --- | --- |
| Driver type: | Open-air Dynamic |
| Driver size: | 40mm |
| Frequency response: | 20 - 25,000Hz |
| Maximum input power: | 300mW |
| Sensitivity: | 96dB/mW at 1kHz |
| Impedance: | 32ohms |
| Weight: | 250g |
| Cable length: | 3.0m (Single, OFC) |
| Connector: | 1/8" (3.5mm) mini stereo, gold-plated. Detachable 1/4" (6.3mm) adapter included |
| | |
| --- | --- |
| Features: | 6 |
| Performance: | 7 |
| Build Quality: | 6 |
| Value for money: | 7 |
| Overall: | 7 |

Contact
Email: Sales@pristinenote.com