VERDICT:
The ASUS Vulcan PRO is a great set, it's positioning is great and the mic is great and that's probably what a gamer should be looking at anyway. However, the lack of decent audio quality means that you can't really use this set for multimedia playback and expect to enjoy the experience (unless of course you're a bit tone-deaf). The features that this set boasts off are quite exceptional in this price range and make this headset a worthy contender for your money if you're on the lookout for a decent gaming headset.
Design and build
The Vulcan PRO is an interesting headset. The black and red colour scheme, ASUS's signature for their RoG series, is quite nice. The build is also quite nice and while it's only plastic, it seems to be sturdy plastic. One disappointment was the microphone boom, which was a little too stiff for our taste and while it was detachable, we would have liked a bit more flexibility in the design. The cable itself is braided and quite sturdy. The headset itself folds up rather well and the bundled RoG case makes the headset an excellent travel companion. The case is very sturdy and the headset fits snugly inside, with plenty of room for any spare cables and attachments that you might want to throw in.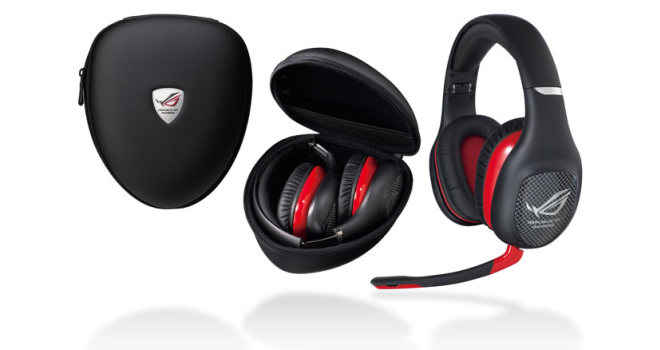 Performance
When we speak of features, this set excels. It's packed to the brim with every feature that you would expect from a gaming headset, not including true 5.1 support of course, and packs in large drivers, a boom mic, active noise cancellation, in-line volume control, a carrying case and even a USB DSP chip for those of you who haven't invested in a sound card.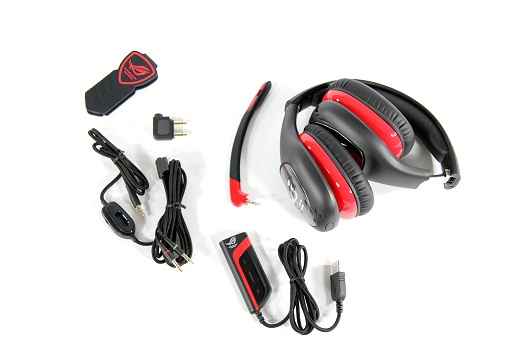 When you speak of the performance though, you'll talk about the set in less than excited terms. The set is not very great in terms of audio quality. It's great in terms of positioning the source, but pure audio quality suffers badly. The bass booms quite a bit and is not very precise, a sad twist that doesn't lend this set very well to music playback.
The positioning is very good however and since that's what a real gamer might actually need, this set is a worthy contender. The Steelseries V2 based sets are way better in every sense, but they're also selling for about double the price of the Vulcan PRO, making this set the poor man's V2– not that the set is cheap at Rs.6,850 mind you.
If you disregard the audio quality, the set is a very comfortable one and features possibly the best mic among the gaming headsets we've tested so far.
Conclusion
Picking the right headset for gaming is a very finicky process and a fine art. No two gamers are likely to have the same taste in headsets and each will vehemently support their favourite type. A single headset that will satisfy gamers of every type is very rare and the Vulcan PRO comes very close to taking that crown.