VERDICT:
For Rs. 3,200, the Shuffle is somewhat costly for what you get, and cheaper brands will give you a display for this price, along with other features. But if you're looking for something attractive, well built and good sounding, and above all tiny, the Shuffle will satisfy.
With radical upgrades to the Nano and Touch happening, it was only fair that the smallest member of the family receive its share of attention too. For many, the Shuffle represents the entry into Apples domain of portable multimedia players, although with the lack of a display, the Shuffle has always been a music player, unlike the Nano, Classic and Touch that handle photos and videos among other niceties. The Shuffle is also the most affordable Apple PMP, and while there are cheaper MP3 players out there, few have the style or compact dimensions of the Shuffle – in fact, this little fellow has spawned countless look alikes. Understandably, we had high hopes, and in most aspects, the Shuffle didn't disappoint. Remember – we said most!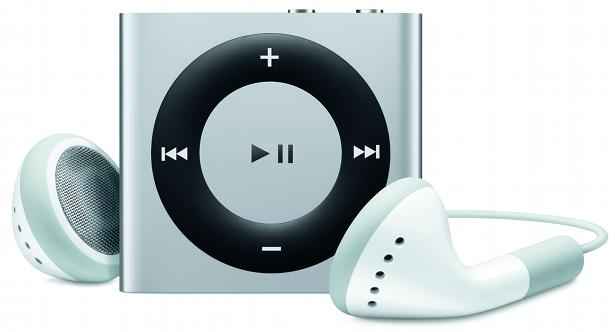 Look and feel
Like it or not, the compactness of the device is undeniable. The Shuffle is super tiny, and owing to the aluminium chassis, it feels extremely rugged, and should easily survive a drop, should you be perverse enough to subject it to a one…or many. The front has a large circular, clickable control pad that surrounds a large center button. The control pad is made of plastic – the only non-metal component on the device. Basic media controls play/pause, track change, and volume controls are located on this pad. On the top are two steel-finished tiny controls, that despite being tiny, are pretty usable. To the left of these is the 3.5mm jack. The rear is dominated by a large clip, with a rather strong spring – the Shuffle will happily clip on to belts, collars, and pockets, heck the darn thing is so small, you can keep it just about anywhere. At 12.5 grams, the Shuffle is a feather-weight.
[RELATED_ARTICLE]The main controls are well laid out and quite intuitive, as expected from fifth generation product that has seen numerous refinements and tweaks. The top controls, (the steel ones we mentioned earlier), consist of a 3-position slide-lock button that controls power, and the play order (shuffle or in-order). The button this slider is new, and what Apple calls a "voice over" control. It can work in three different ways, reading out current track and artist name at a single press, a long press gets you information about multiple playlists and two quick presses gives battery information. All this data is read out to you, obviously trying to make up for the lack of a display, which is a nice touch.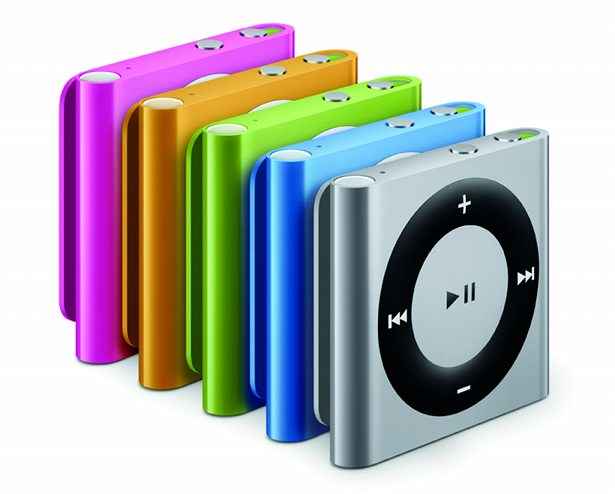 It is obvious to see the Shuffle has a basic feature set, and is definitely not for geeky folk. Rather its for people who just want music on the move without the frills of a fancy interface, or even a display. Lack of FM Radio is a huge minus in our opinion, since many people wanting a basic music player typically expect FM Radio support. We fault Apple's logic of offering FM Radio on a costlier model with a display, and omitting it on a music-only device.
We'd have loved a 4 GB version as well, but there's only 2 GB – more of Apple-trickery – you want more storage, buy a Nano.
Click next to read how it performed and our final take
Performance
We found it strange, (and sad), that Apple chose to cut corners on the audio performance of the latest generation Nano and Touch devices, and were hoping the same didn't happen here. After all, the Touch has a lot more going for it besides music, but for the Shuffle, music is not just its forte, it is its only feature. Read our reviews on the iPod Touch and iPod Nano, to know why we were so annoyed with the reduced audio performance. The bad – Apple has fiddled ever so slightly with the maximum volume level, and therefore the output of the Shuffle too – so the new Shuffle isn't as powerful as previous ones, affecting volume levels ever so slightly, but more so sound quality, particularly with aftermarket headphones.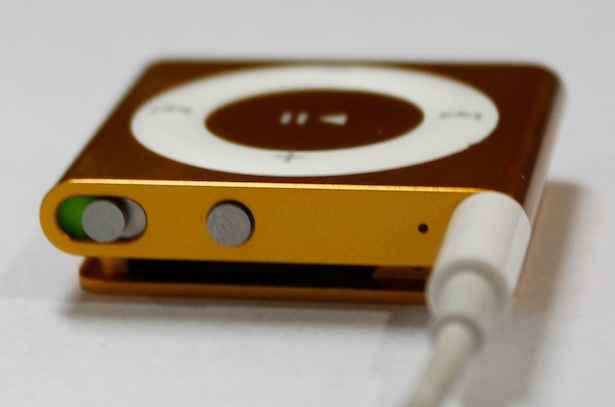 The good – the new Nano and Touch are worse off, and Apple hasn't toned down on the dB levels as much. This was probably done in order to get more battery life out of the device, or simply because few people use Apple earbuds at maximum volumes, therefore what's the use of having non-used headroom? However, with aftermarket earplugs or headphones, that are typically harder to drive, this makes a big difference.
[RELATED_ARTICLE]Now for the sound quality. The Shuffle is pretty powerful, able to drive our Grado RS1i headphones without much fuss. Bass is tight, and well controlled, never becoming loose, however, on certain tracks, bass sounds a little flat, and has less impact than we'd like – obviously an issue of not driving these headphones well enough. For despite their 32 ohm impedance rating, the RS1i can sound unfocussed and shrill out of a mediocre system. The mid-range is good with simple passages and slow music – country, pop, ballads all sound good – good vocals, good guitar accompaniments. For example, Leonard Cohen singing So Long Marianne, the vocals are not creamy and lush, bordering on being a bit lean, but they're certainly not unpleasant. With complex music, things change, as the Shuffle is unable to provide sufficiently fast transient response to keep the drivers happy. The mid-range becomes unfocussed, guitars will blend, vocals seem indistinct at times, and this is very noticeable with genres like speed metal, particularly when there's a lot going on at once in a particular frequency range. Obviously, the the default earbuds, things improve, but the earphones now become the limiting factor. The highs are sibilant and rolled off. Casual music lovers will still find quality good, as the Shuffle is pretty close to neutral, without sounding boring.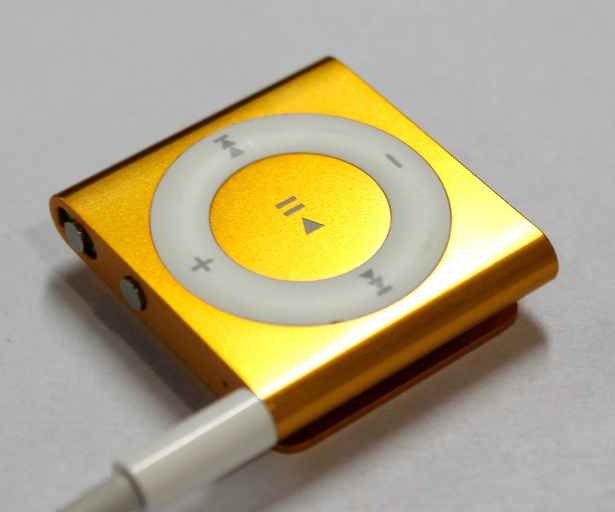 Our Take
At Rs. 3,200, the Shuffle is certainly not expensive, but the fact remains that you can get a 4 GB player, with display from a smaller, less known brand for a lot less. Apple however, likes to portray itself as a lifestyle brand would give the impression that price competitiveness is below their dignity. More like justification. However, the Shuffle is very well built, neat and compact, and offers pretty decent music quality. If these things don't matter to you – then the Shuffle is bad value for you – look elsewhere. If you're after an audiophile-grade source, you will not find it here. As flash is getting cheaper, so are flash-based devices, and we recommend the Shuffle, if you want a tiny music player, and can live without the extra storage space, and the lack of FM Radio.
Specifications: Storage: 2 GB; weight: 12.5 grams; bundled earphones response: 20Hz to 20,000Hz
Rating:
Features: 5
Performance: 6
Build: 9
Value: 5.5
Overall: 6
| | |
| --- | --- |
| Brand | Apple |
| Model | iPod Shuffle |
| Price (Rs) | 3,200 |
| Features | |
| Capacity (GB) | 2 GB |
| Display Type | – |
| Number of Colours | – |
| Resolution | – |
| Size of Display | – |
| Type of Battery | Li-ion |
| Weight of Device (in grams) | 12.5 grams |
| Firmware Upgradeable (Y/N) | Y |
| Memory Upgradeable (Y/N) | N |
| Type of upgradeable memory | – |
| FM Tuner (Y/N) | – |
| Voice Recording (Y/N) | Y |
| Audio Formats supported | AAC, Protected AAC, HE-AAC, MP3, Audible, Apple Lossless, AIFF, WAV |
| Image Viewing (Y/N) | – |
| Image formats supported | – |
| Video Playback (Y/N) | – |
| Video Formats supported | – |
| Screen Brightness adjust (Y/N) | – |
| Screen Orientation Sensor (Y/N) | – |
| Bluetooth (Y / N) | – |
| Built-in Speakers (Y/N) | – |
| No of Preset Modes | – |
| Customisable Equaliser (Y/N) | – |
| Point A to B Track Repeat (Y/N) | – |
| Custom Playlist saving (Y/N) | Y (via software) |
| PC connectivity type | Proprietary |
| Audio File Transfer (Sync/Copy) | Sync |
| Use as Portable Drive (Y/N) | N |
| Addon Features | |
| Built-in Calendar | – |
| Built-in Contacts | – |
| Built-in Stopwatch | – |
| Built-in Alarm | – |
| Bundled Software | – |
| Bundled Accessories | – |
| Additional Features (If any) | – |
| Menu Layout (So 10) | 7 |
| Navigation (So 10) | 5.5 |
| Performance | |
| Transfer Speed (in MBps) | 9.1 |
| General Display Performance (So 10) | – |
| Video Performance (So 10) | |
| Brightness | – |
| Colour | – |
| Contrast | – |
| Overall Video Viewing Experience | – |
| Music Performance (Out of 10) | |
| Dire Straits – Money For Nothing | 7 |
| Robert Plant & Alison Krauss – Trampled Rose | 7.25 |
| U2 – Where the streets have no name | 7 |
| Eric Clapton – Layla | 7 |
| Pink Floyd – Us and Them | 7.5 |
| Ozzy Osbourne – No More Tears | 7 |
| Sound Performance (Out Of 10) | |
| Treble Detail | 7 |
| Mid-Range | 7 |
| Bass | 7 |
| Soundstage | 7.25 |
| Bundled Headphone Quality (Out of 10) | 6 |
| Battery Life (Actual Tested) | 13.5 hrs |
Contact: Apple India
Email: indiasales@mac.com
Phone: 080-2574-4646
Website: http://www.apple.com/ipodshuffle/
Price: Rs. 3,200 (MRP, 2 GB)