VERDICT:
Safe to say, we were very impressed by the overall package that Airtel�s Digital TV HD Recorder offers. The real outcome of this experience – once you have used a DVR, there is no going back to a standard set-top box. Recording features work well, and are simple to get the hang of. The real kicker is the fact that you can pause Live TV, and resume without missing any action. And with Airtel�s line-up of 14 real HD channels and about 265 channels in total, the idiot box shouldn�t become boring.
Installation and activation
Just like any DTH installation, the dish antenna is installed outdoors – balcony, terrace etc. The dish needs a direct line of sight with the sky, and cannot be installed even remotely indoors. Just like DishTV's service that we reviewed recently, Airtel also used a dual LNB, since they are getting channels from two separate satellites – Insat 4CR and SES 7. As with a full-fledged DVR, there are two cables running from the dish/LNB to the set top box. The DVR connects to the TV via composite, component and HDMI. We used the HDMI cable that came as a part of the package, and then a Panasonic cable that we use for the PS3, just to see if there is any difference in quality. Proves the point that an expensive HDMI cable makes no quality difference, something that we have reiterated all along. The DVR also has optical audio out, to connect directly to an AV Receiver.
The installation took about 30 minutes, which included setting up the antenna (which is multiple components joined into one unit that you see finally), wiring to the box and activation of the service. In DishTV's case, the DVR features (pause, record etc.) were activated a couple of hours after the channels started working. With Airtel, everything started working immediately post activation.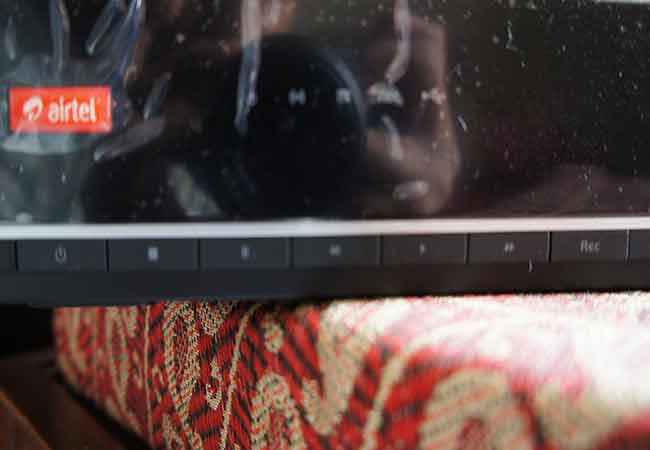 DVR hardware
The DVR from Airtel is called the Airtel Digital TV HD Recorder. That is quite a mouthful! The DVR does look very classy though. Unlike the time when STBs were just a means to an end, the new gen ones also look good while doing it. After all, you don't really want a horrible looking box sitting under your TV in the living room, when it is flanked by classy looking devices – Blu-ray player, gaming console etc. TataSky's HD box is probably the first one to bring in this trend.
Matte finish means you want need to wipe it down everyday. The front has a bunch of tiny LEDs – power, signal indicator, message, recording status and USB. There is a complete plethora of hardware buttons – power, record, stop, pause, rewind, forward as well as menu, return and the D-pad. Very useful, for the day will come when you will lose the remote in plain sight.
A part of the front fascia is has a glossy finish – the part where all the LEDs and hardware keys are. The rest of the device is in a matte black finish. There is a USB port nicely hidden away (you will miss it if you don't look hard) towards the front of the left side panel. All AV connectivity options are on the rear – HDMI, component and composite along with optical audio out, another USB input as well as an Ethernet port. You can also see the dual antenna-in connectors.
Even after 15 minutes of use, the DVR does heat up quite a bit. Thank God for the generous vents to help with the cooling. We suggest you keep this in a place with good ventilation, to prevent burn-out or damage.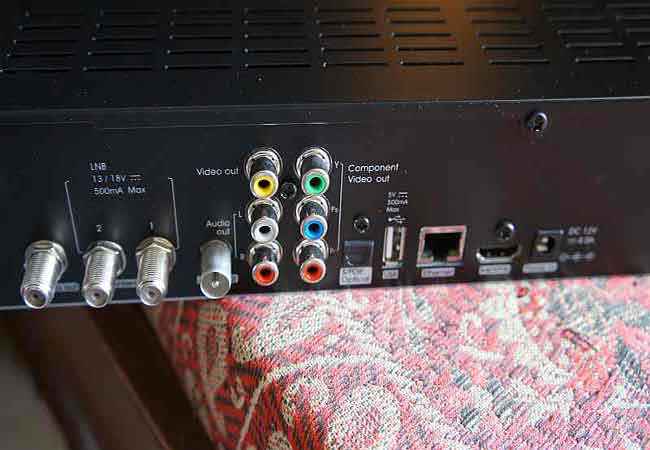 Features & Performance
Being a DVR, we were obviously most interested in the hard drive bit. The version that we got was the 320GB one. We are hearing rumors (on certain forums) about some people getting 500GB DVRs, but Airtel hasn't listed that as an option on their website. We didn't risk opening the DVR, but we could clearly see that it is a Hitachi hard drive. The only issue we have is that 320GB is probably a little too less, particularly if you will be recording HD content. There are 2 USB ports on the device, and assuming Airtel will activate them with a future firmware update, they could be used to add external storage. Do remember that Tata Sky HD comes with a 500GB hard drive.
So how does this perform as a DVR? We think it is a pretty slick device to have. First off, we tested the pause Live TV feature. There is the pause key on the remote, which will pause TV, and record the content on the hard drive in is essentially a separate partition. You can schedule the pause/resume thing for a maximum of 90 minutes at a time. To skip back to Live TV, you need to press the stop button and select "return to Live TV" on the screen. For recording, there are three basic ways of doing it – schedule a recording, do an on-the-fly recording and set a series link for daily/weekly TV shows, assuming they are on at the same time and same day as the pilot recording. You can rewind all content, but can forward only the recorded content, assuming you have enough time left on the ETA clock. We had mentioned earlier about the dual cables going into the DVR from the antenna. This allows you to either record content on one channel while browse channels like you normally would, or set recording on two channels, but be limited to watching one of those two channels. For recording, the DVR can be switched on, or at least in stand-by mode. In case the recording does get interrupted (power failure etc.), it will resume immediately as soon as the DVR restarts.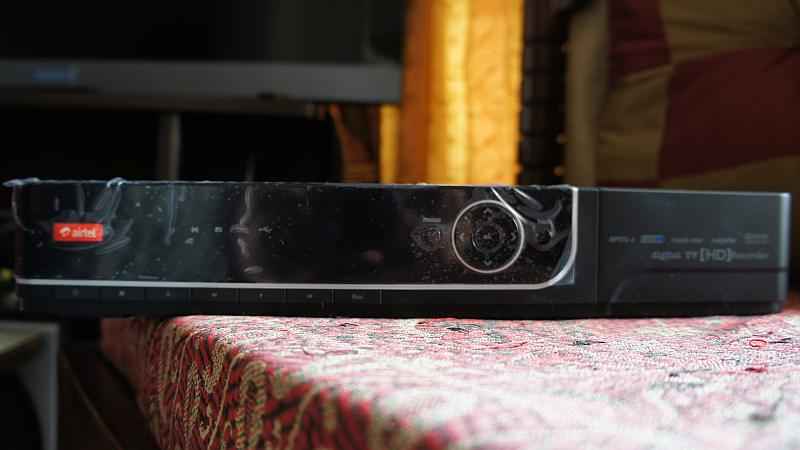 The UI has received a complete refresh recently, with the 401/402 version firmware update, depending on the STB version you own. There is no other way of putting it, except that it looks very similar to Tata Sky's UI. However, we appreciate the usability of the UI, and the uncluttered feel to the entire experience. The scheme of black and red colours does look quite good! When compared to the previous UI on Airtel Digital TV HD, the new one is just so much better. Not only is the response snappier, even flicking through the UI is a more intuitive experience than before. However, what the latest update has done is crippled the Favorites feature. Earlier, there were four separate clusters of 15 channels each, with one master category of all 60 favorite channels. Now, while the four mini categories remain, the master list has disappeared. The drawback is that you need to go inside three layers of the menu to change the active cluster. Fixable, in a future update, possibly.
When you switch off the DVR, and switch it on the next time, it starts off at the channel you were last viewing. While we are hearing that the new update has disabled the feature on certain SD and HD STBs, this feature remains intact on our DVR. We think this is an amazing little thing to have, since the convenience is immense, and isn't as annoying as going to some stupid marketing channel and then being forced to punch in the numbers of the channel you need to go to.
| | | |
| --- | --- | --- |
| HD Channels in India | Tata Sky HD | Airtel Digital TV HD Recorder |
| ESPN HD | Y | Y |
| Star Cricket HD | Y | Y |
| Ten HD | N | Y |
| Star Plus HD | Y | Y |
| Star Gold HD | Y | Y |
| Zee TV HD | N | Y |
| Colours HD | N | Y |
| Zee Cinema HD | N | Y |
| Star Movies HD | Y | Y |
| Movies Now HD | N | Y |
| Zee Studio HD | N | N |
| Discovery HD | Y | Y |
| NGC HD | Y | Y |
| History TV18 HD | N | Y |
| Mtunes HD | N | N |
| CNBC Prime HD | N | N |
| Sun HD | N | N |
| Sun Music HD | N | N |
Airtel has more authentic HD channels than what Tata Sky can offer with their Tata Sky HD service. And the quality of the HD channels on Airtel's platform also is far superior to on Tata Sky – which has been facing bad interlacing issues off late on certain channels (namely Star Cricket HD, ESPN HD and even Star Movies HD). This could probably be because they are facing transponder space crunch, but to the end consumer, it is the quality that matters, and not the nitty-gritties behind it. In addition to the quality advantage, Airtel also has a wider range of HD channels on the platform – which includes all full-time sports and Hindi GEC HD channels. The SD channel quality is by far the best among all the three that we have tested recently – Tata Sky, Airtel Digital TV and Dishtv. While certain channels did have something resembling moire pattern (namely Big CBS Prime and Big CBS Love), we would pin that down as a broadcaster issue.
The remote that Airtel provides with the Digital TV HD Recorder is the universal type. You can program the same remote to switch on and off the TV, mute as well as volume increase and decrease and even change source. We like the slim form factor of this remote, and the fact that it added the dedicated recorder keys without really changing the form factor. With this one programmed, you may just as well have one less remote to worry about.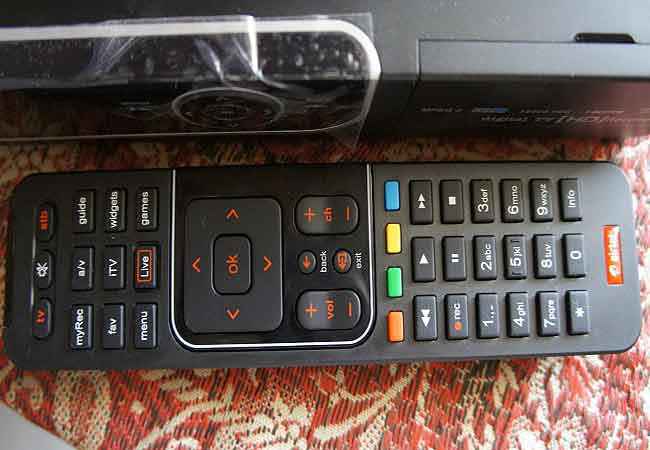 Our Take
We really cannot imagine watching TV without the capabilities a DVR adds to the experience. Now, your choice should ideally be between Airtel's Digital TV HD Recorder and Tata Sky HD . While the feature set is relatively same and Tata Sky HD comes with a bigger hard drive, we would still recommend the Airtel HD Recorder, simply because there are more HD channels on the platform. As for the lesser internal storage space, we are expecting Airtel to activate the USB ports on the DVR to enable memory expansion.
We think the following demographic of users should upgrade to the Airtel Digital TV HD Recorder –
1. In the market for a new DTH connection with HD – We suggest you consider spending more up-front and getting a much smarter device.
2. Already own an Airtel DTH connection (HD or SD) – We think you should upgrade. The extra capabilities add a whole lot to the way you watch TV.
3. If you already own an SD DTH connection from any other operator, and want to upgrade to HD, then go for this. Might entail a higher cost up front if you aren't already on the Airtel DTH platform, but totally worth it.
Price: Rs. 4,990 (upgrade) and Rs. 5,990 (new connection)
Contact:
Phone:
North Hub: 0124 4448080
East Hub: 033 44448080
West Hub: 020 44448080
South Hub: 080 44448080
Email: digitaltv@in.airtel.com