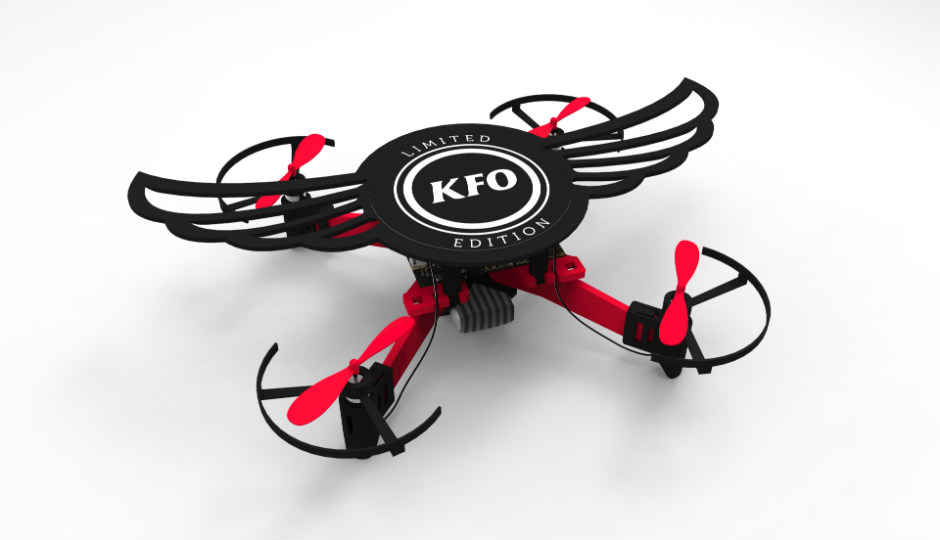 HIGHLIGHTS
24 lucky consumers who buy the new Smokey Grilled Wings on January 25 or 26 stand a chance to win the KFO or Kentucky Flying Object drone
Fast food chain, KFC is giving buyers a chance to win a drone. Called the KFO, or Kentucky Flying Object, it can be won by those buying the new Smoky Grilled Wings on January 25 or January 26. 24 consumers stand to win the drone. It should be noted that the offer is only valid in select stores in Delhi-NCR, Mumbai, Bangalore, Chennai, Hyderabad, Kolkata, Chandigarh, Pune and Kochi. The drone comes with detachable parts that needs to be assembled together. The device then connects to the a smartphone via Bluetooth, letting you control the drone.
Read the complete press release below
There are two kinds of wings in the world – the finger lickin' good ones and ones that can fly. Well, KFC India just made sure you can have both! Order the new KFC Smoky Grilled wings at select KFCs across ten cities, and you could get your food in a super cool packaging that turns into a flying drone, powered by your smartphone. Yes, it's possible and it's here!
The 'KFO or Kentucky Flying Object', as it is called, is the most fly meal ever! The red and white snazzy packaging for the KFC Smoky Grilled Wings has detachable parts that are easy to assemble. With an online user manual, assembly and installation is quick, easy and and hassle-free. Once you've put everything together all you need to do is turn the power on, connect it to your smartphone via Bluetooth and voila! your KFO is ready to fly! Lucky consumers can win the KFO, when they order Smoky Grilled Wings on 25th and 26th January, across 12 stores in 10 cities** in the country.
Commenting on the launch, Lluis Ruiz Ribot, CMO, KFC India, said "Food and technology, are two things that keep us and our consumers excited. To celebrate the introduction of our new scrumptious Smoky Grilled Wings, we are launching a limited edition KFO box. It is super cool packaging that converts into a drone"
To get your own KFO, walk in to your nearest KFC restaurant* on 25th and 26th January, order the all-new Smoky Grilled Wings and pray to the universe. 24 lucky consumers will have their prayers answered!
Just in case your stars don't shine, we hear KFC might selling the product on their official website, online.kfc.co.in too next week.
**Select stores in Delhi-NCR, Mumbai, Bangalore, Chennai, Hyderabad, Kolkata, Chandigarh, Pune and Kochi only.