Chord Mojo, a studio-grade headphone amp and high-resolution audio processor, launches in India
Chord Electronics has brought to India its headphone amp – Mojo, short for Mobile Joy, that enables smartphones and connected devices to deliver recording-studio sound quality from any headphone. Mojo offers three different high-resolution digital inputs: Micro USB, optical and a 3.5mm coaxial input and the Input selection is fully automatic. Priced at Rs. 39,990/- Mojo will be available exclusively on Headphone Zone.
Following are the specification
Digital inputs: 1 x Micro USB 768kHz/32-bit capable, 1 x 3.5mm jack coaxial 768kHz/32-bit capable, 1 X Optical Toslink 192kHz/24-bit capable
Outputs: 2. x 3.5mm headphone jacks
Charging: 1 X Micro USB charging port
Output power @1kHz: 600 ohms 35mW; 8 Ohms 720mW
Output impedance: 75m ohms
Dynamic range: 125dB
THD: @3V 0.00017%
Weight: 180g
Dimensions: 82x60x22 (LxWxH mm
You can read the full press release below:
THE CHORD MOJO: STUDIO-GRADE HEADPHONE AMP & DAC LAUNCHES IN INDIA
Chord Electronics has launched Mojo, a British-built headphone amplifier and DAC in India. The Mojo enables smartphones and connected devices to deliver recording-studio sound quality from any headphone. Chord Electronics has entered the Indian market in exclusive partnership with distributor Ferrari Video and their retail brand Headphone Zone. The Chord Mojo is available for purchase online at an MRP of Rs. 39,990/-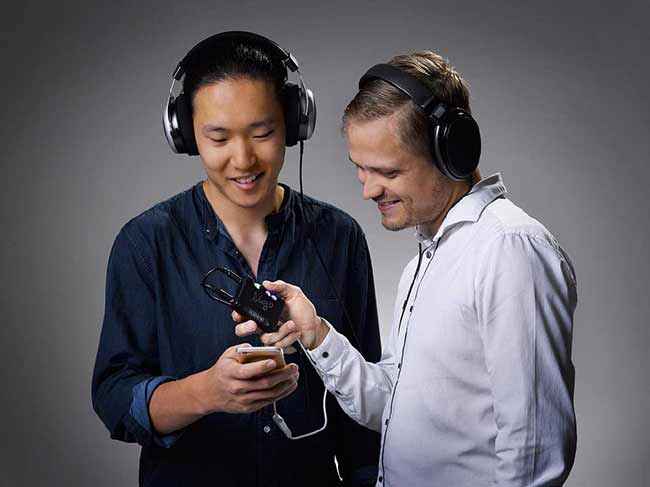 About Chord Electronics Ltd
Chord Electronics Ltd is a world-leading manufacturer of high-performance hi-fi and audio products. Since 1989, from its spectacular riverside base in Kent, England, Chord Electronics has been creating some of the planet's finest hi-fi, home cinema and professional audio equipment. A technology-driven innovator, Chord Electronics continues to deliver excellence through exemplary audio engineering, cutting-edge design and a true aesthetic understanding.
About Mojo
Chord Electronics, a world leader in digital audio, has launched Mojo. A contraction of 'Mobile Joy', Mojo is a headphone amplifier and DAC (digital-to-analogue converter) that empowers smartphones to deliver music content at up to studio-master-tape quality.
Mojo enables this due to Chord's advanced proprietary digital signal processing technology.Low-cost, widely available apps, such as Onkyo's HF player (iOS and Android), now make high-resolution music file playback easy from all smartphones. Mojo connects to these devices digitally, processing the files using the most advanced conversion technology available, to deliver genuinely unrivalled sound quality to up to two pairs of headphones.
Mojo is entirely designed and manufactured in England using British expertise. It distills 27 years of high-performance audio know-how into a single mass-market device designed to empower the smartphone. Mojo is the most advanced device of its kind in the world.
Get your Mojo workin'
Mojo connects digitally to smartphones and similar devices in a number of ways. It offers three different high-resolution digital inputs: Micro USB, optical and a 3.5mm coaxial input. Input selection is fully automatic: if more than one input is active, they are prioritised as USB first, coaxial second and optical third.A Micro USB to USB cable is supplied with each Mojo and Chord Electronics will be offering consumers a range of approved, low-cost connecting cables for iOS devices and various other digital connections.
Fast charging
Mojo utilises new high-temperature battery technology, giving much faster charging (up to twenty hours' faster than competitor units). A full charge is reached in just four hours via USB, giving around ten hours' playback; Mojo's charging Micro USB port has a battery status and charging indicator light, too.
Compact, portable, aircraft-grade aluminium
Mojo's ultra-compact form, based on Chord's award-winning Hugo platform, has been designed to be easily operated with no confusing or superfluous switches. Its simplicity means anyone can enjoy high-end sound quality straight out of the box. Mojo's casework is machined from solid aircraft-grade aluminium and has a hard, fine Matt-black finish that does not finger-mark.
High-resolution file playback
Mojo is capable of playing all of today's music formats, including the very latest high-resolution standards. It can deliver breath-taking realism from any digital music file: PCM; WAV; AAC; AIFF; MP3 and FLAC. It is designed to work with all smartphones and music players and covers specialist high-resolution formats such as DoP DSD files: DSD 64; DSD 128 and DSD 256. Mojo's three high-resolution digital input options comprise optical (to 192kHz), plus Micro USB and RCA (mini-jack) which operate at up to an incredible 768kHz.
Proprietary technology
Mojo uses the new Artix-7 FPGA chipset from Silicon Valley's Xilinx, making Mojo the most advanced DAC of its type on the planet! Unlike other audio products, that process digital files using crude off-the-shelf chips from Asia, Chord uses an FPGA — a programmable circuit that enables its skilled engineers to directly implement its own digital audio expertise, making Mojo unique in the marketplace.
Spherical coloured buttons
Mojo uses spherical buttons for power on/off, volume control and file frequency information. The spheres illuminate and cycle through a range of rainbow colours. The file frequency is shown clearly by an indicator colour option on the power switch: from CD-quality (44.1kHz, red), 48kHz (orange) and so on, up through a rainbow of colours to bright white for DSD. Volume levels are similarly represented using colour.