Audio-Technica showcases USB microphones, headsets, detachable microphones and other audio products aimed at increasing productivity at home
Audio-Technica showcases USB microphones, headsets, detachable microphones and other audio products aimed at increasing productivity at home. These include the Audio-Technica ATR2500-USB, ATR3350, AT2020, AT2020USB+, ATGM1-USB, ATGM2 and ATH-M50x.
Read the complete press release below
Working from home has become the new normal for many. It can require some adjustment but can be made easier with the right equipment for staying connected. Audio-Technica offers a variety of audio solutions that enable you stay connected with your co-workers. Clear voice communication is essential for long-distance meetings and conferences, and the ATR3350 Omnidirectional Lavalier Microphone newscaster style engineered for intelligible, accurate voice reproduction. This offers an affordable all-purpose solution at an MRP of ₹2,507 for delivering top-quality audio while working remotely. Like all Audio-Technica mics, the ATR3350 is a major step up from the built-in mic in a computer, tablet or phone.
Audio-Technica's ATR2500-USB premium-quality condenser mic priced at ₹10,017 is ideal for conference calls, webinars, podcasting, home studio recording, field recording, and voiceover use. The ATR2500-USB plugs right into your computer's USB port, and functions seamlessly with your favourite recording software. This large-diaphragm side-address condenser offers a USB output for recording to your computer, a quality analog-to-digital converter for excellent fidelity, and a headphone output with level control for monitoring. Its cardioid polar pattern reduces pickup of unwanted sounds from the sides and rear. It's ideal forwork-at-home use as well as for podcasting and music recording.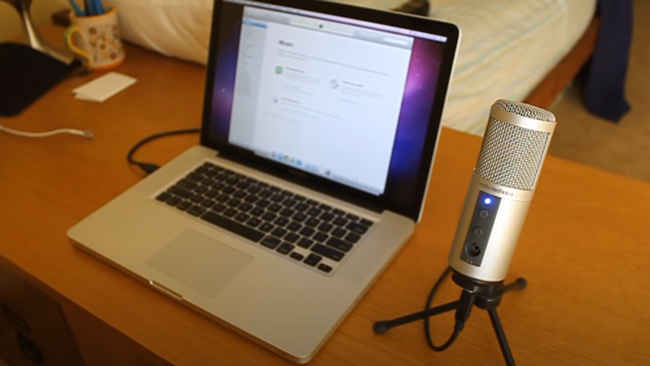 The AT2020 Microphone at ₹ 11,094 with the XLR to USB Adapter or the AT2020USB+ Microphone at ₹ 22,855 condenser USB microphone are well suited for business meetings, podcasting and recording. The condenser mic delivers outstanding clarity. THE AT2020USB+ offers additional useful features like a headphone jack with level control. The ATGM1-USB desktop microphone is a compact directional USB mic that delivers exceptional vocal clarity while blocking out unwanted noise. At ₹ 5,516 the ATGM1-USB with its unobtrusive profile is ideal for videoconferencing and use in tight home office spaces, and its plug-and-play operation and included USB cable ensure total ease of use. Audio-Technica also offers a hands-free mic that doesn't take up any desk space at all. The ATGM2 detachable boom mic easily attaches to your favourite pair of headphones (such as the popular industry-standard ATH-M50x), to transform your over-ear headphones into a full-fledged headset. The ATGM2 priced at ₹8,938 is flexible to adjust for optimum positioning, and its highly directional hyper cardioid mic element rejects ambient noise to ensure maximum vocal clarity.
Celebrating over 50 years of audio excellence, Audio-Technica is a recognized leader in the development and manufacture of high-quality personal and professional audio equipment. Founded in Japan in 1962 by Hideo Matsushita, the company made its name by manufacturing state-of-the-art phonograph cartridges and tonearms. Today, Audio-Technica is a worldwide group of companies devoted to creating high-performance microphones, headphones, wireless systems, mixers, turntables, phono cartridges and other electronic products. A reputation for quality, durability, performance and value has made Audio-Technica products the first choice for many of today's top musical artists and audio engineers, and for discerning listeners everywhere. Drawing from its audiophile heritage, Audio-Technica remains dedicated to providing music enthusiasts with great-sounding, innovative audio gear, including the award-winning QuietPoint® active noise-cancelling headphones, popular ATH-M50x monitor headphones, versatile USB microphones, and new Hi-Res Audio headphones and high-fidelity gaming headsets.