TheMobileWallet lets you pay local store bills via your phone.
With a host of finance management apps already available in the play store, The MobileWallet enables you to pay bills even of your local stores directly from the app. It also has a virtual assistant to keep a track of your expenses and remind you of various chores. Along with paying bills, you can also recharge your phone, book and pay for cabs and manage your travel. Payment transactions are facilitated by scanning a QR code generated by the MobileWallet app.
You can read the full press release below
100 Million Users to Go Cashless with India's Latest Payment Solution, 'The MobileWallet'
Mumbai, February 2016 – With the lightning speed of developments in the Fintech space, now you have The MobileWallet (TMW) making it possible for you to Go Cashless and pay for your daily purchases without having to reach for your wallet. The brainchild of Mr. Vinay Kalantri, Managing Director of The MobileWallet Pvt. Ltd., TMW aims to be a Complete Solution for all payments that a user makes on day to day basis.
Put aside all your payment hassles by simply downloading The MobileWallet (TMW) App now available on the Play Store. Your one-stop solution for making easy payments using just your Mobile Phones, The MobileWallet (TMW) is the latest digital wallet that enables users to make payments in a matter of seconds, by simply scanning a QR (Quick Response) available with all TMW Authorized Merchants from the TMW App. A wonder wallet in the making TMW is safe, efficient, convenient and most reliable.
The user of The MobileWallet will be rewarded through its unique self-managed loyalty programme for all spends made using TMW. Making payments for your daily requirements at your local store, making travel bookings like Airline Tickets & Hotel Reservations will now turn into a rewarding experience with The MobileWallet. That's not all; users can also transfer Money to Friends and Relatives or Request for Money from Friends and Relatives with The Mobile.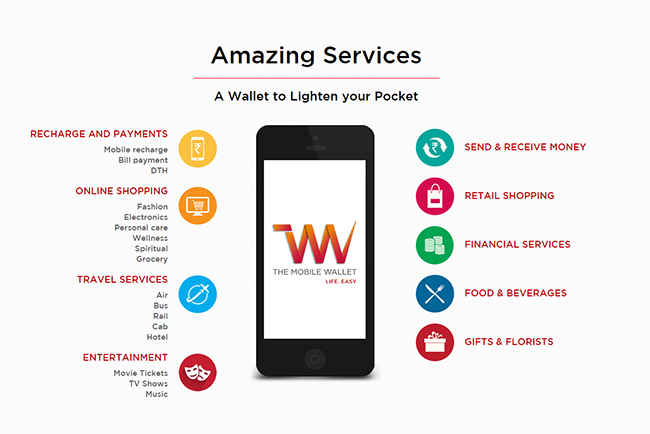 Speaking about The MobileWallet, Mr. Vinay Kalantri said, "We are empowering India and Indians to Go Cashless and be a part of the world's largest movement to create a Cashless Society. We are empowering our users and Merchant Partners with a quick, secure and easy to use payment solution which will make everyday Life Easy by reducing the hassles and need to keep loaded physical wallets or worrying about small change and currency."
The MobileWallet is targeting a Merchant Universe of 1 Million Merchants in the offline space in the next one year and has put together an army of 1200 Merchant relation executives to achieve the number. It will also target getting 10% of the population of India as users to kick start the initiative of making India a Cashless Society.
All the users and authorized TMW Merchants will also be a part of the overall thrust towards a Cashless Society being spearheaded by the Government of India as mentioned in the Budget Speech of the Finance Minister in February 2015. They would also benefit from any tax benefits that may be proposed by the Finance Minister in the Budget for the Financial Year 17 – 18.
Click here to Download The MobileWallet now!