Dell Vostro
Power New Possibilities | Dell PCs starting at Rs.35,990*
Click here to know more
Advertisements
According to a video shared by Indian watchmaker Titan on Facebook and Youtube, the company will be foraying into the smartwatch category this month. Titan will be launching a new smartwatch on January 20. The watch is being made in partnership with HP. It will look like an analogue watch, with a small display inside. The watch will be able to connect to devices using Bluetooth, and will probably show only notifications.
The video shared by Titan reveals that the watch has a leather strap and a standard clasp, along with full stainless steel case. The right side of the watch houses the controls. There is a regular mechanical crown for the watch, and two push buttons reside on either side of it that will probably control the digital operations. The back of the watch has two contact points which will charge the battery. According to the FCC documents bearing ID code 04GTITAN, we found that the watch has two batteries. One battery is likely to power the mechanical watch operations, while the other will power its digital aspects.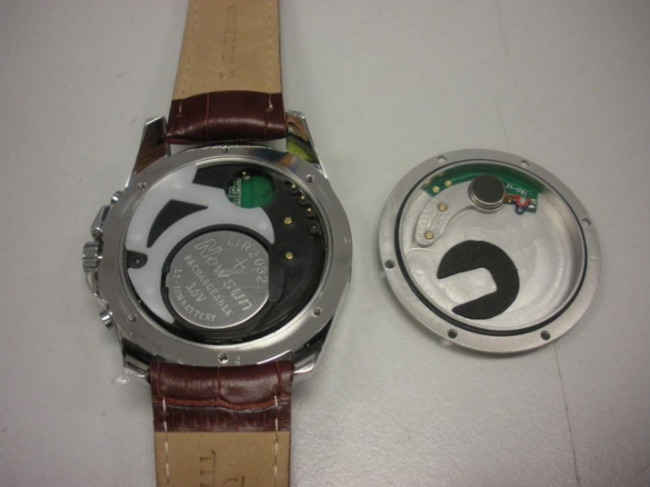 In November 2015, while announcing Titan's partnership with HP, Mr. S. Ravi Kant, CEO of Watches and Accessories Division, Titan Company Limited, said, "It is indeed a milestone for two of the world's leading companies to come together and create a unique lifestyle offering for people not only in India, but across the world. This category of smart watches is going to change the way people view the art of timekeeping and beyond. It was but natural for an innovative company like Titan to partner with HP Inc. for the next step in our journey as a lifestyle company. Users no longer have to decide between tradition and technology. They can still wear a drop-dead gorgeous watch on their wrist infused with "smart" technology for a new era of access and connectivity. We look forward to an exciting launch later this year as we continue our expedition in innovation."
Titan and HP already have plans to launch a range of smartwatches, and this is just the first one. Other watchmakers such as Fossil and Tag Heuer have also joined the smartwatch race. With technology shrinking in size to bring more connectivity to wrist accessories, other watchmakers are likely to join the bandwagon in the coming days.