Highlights
LG has applied for a patent that allows for the placement of a camera on the strap
The placement allows the user more freedom when it comes to taking photos
The patent also describes some use cases for the camera
It looks like LG has applied for a patent for placing a camera on a smartwatch. Dutch website, nl.letsgodigital.org has gotten its hands on a patent, which not only shows how the feat could be achieved, but also its various applications. Granted, it isn't exactly a new concept. The Intex iRist offered one back in 2015, while you can pick one of the many low cost 'smartwatches' that offer a similar feature. However, none of the major manufacturers seem to offer the feature in their wearables. And as we noted in our first impressions of the iRist, there is a very good reason for that. Simply put, taking a picture with the camera on such a device is a little awkward to say the least. However, it looks like LG is trying to rectify this little problem.
The images in the patent suggest that LG is thinking of different ways and techniques of placing the camera on the device. One suggests a way to place the camera on one of the links of the strap of the wearable, presumably a metal strap. Another technique affixes the camera on the strap, but allows the entire strap to be rotated, giving the user more freedom when it comes to choosing where to point the camera. There is aso a system with the camera placed on a clip attached to the strap.
The patent also describes some of the use cases for the camera. These include an option for the user to take a picture of a food item and see the calorie count for that dish. Further, the camera might also be used to scan barcodes and QR codes.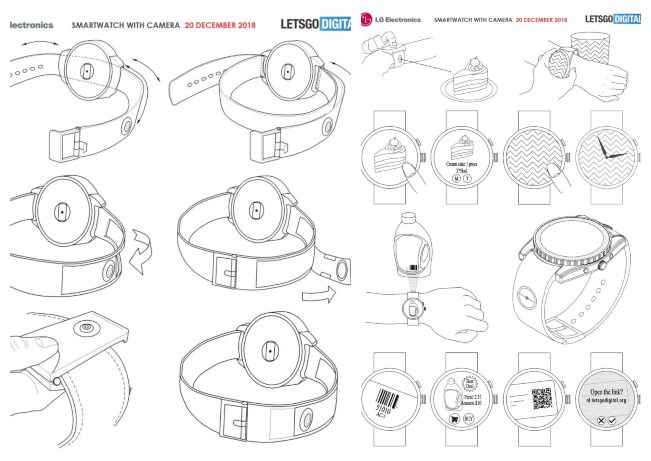 Of course, it should be noted that just because LG has applied for the patent, doesn't mean that the company will launch a device with the feature. So don't expect LG to showcase such a device in the near future unless leaks of the actual product start surfacing on the internet.
Reading recommendations