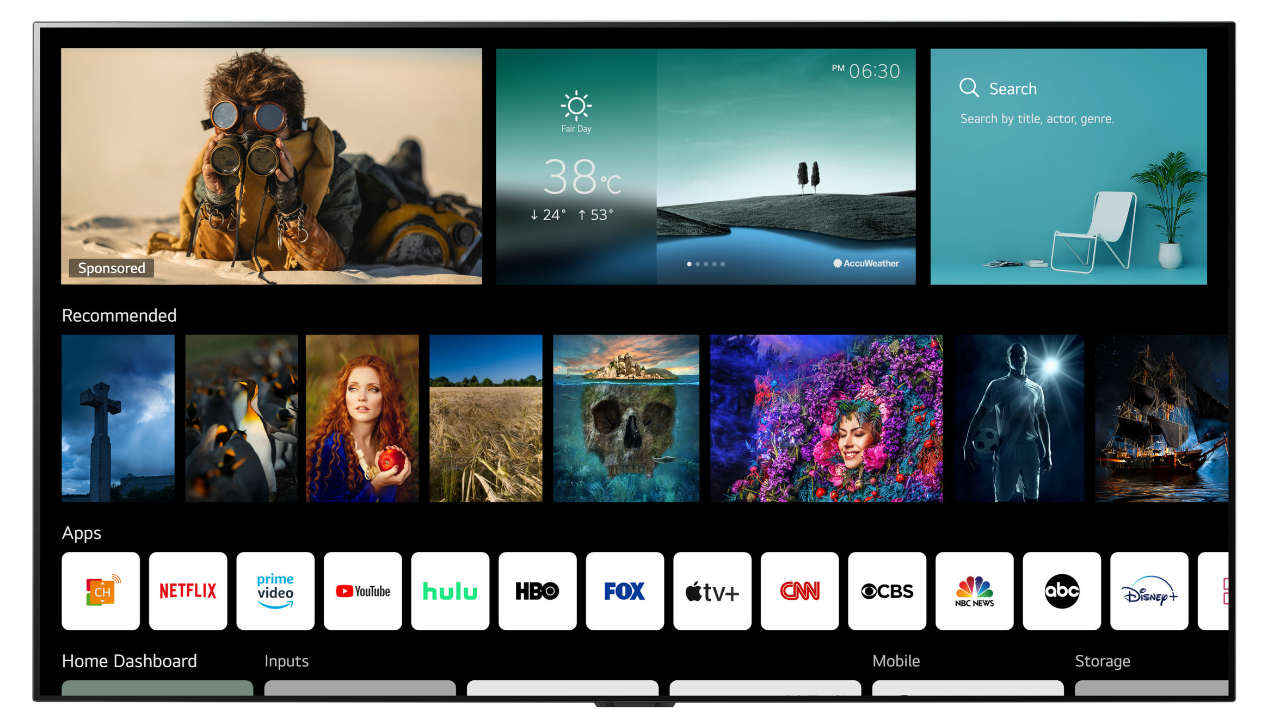 HIGHLIGHTS
The new WebOS 6 Smart TV UI will debut with LG's 2021 smart TV lineup.

The redesigned remote control has dedicated buttons for Google Assistant and Amazon Alexa.

The remote also comes with NFC connectivity.
At CES 2021, LG has announced the new webOS 6.0 UI for its 2021 OLED, QNED Mini LED, NanoCell and UHD smart TVs. It isn't clear whether the new UI is limited to the new TVs only or whether it will come to existing 2020 or even 2019 flagships. LG has also unveiled a new Magic Remote. The new remote control not only sees a redesign but also has some functional changes as well.
New LG webOS 6.0 UI
Those familiar with LG's webOS will feel right at home with the new UI. It has the same tile-like design representing the apps at the bottom of the screen but they have a squarer design this time around. Previously, the rest of the display wasn't really utilized with the webOS UI but it looks like, with webOS 6, users can expect to see widgets and recommendations populating the screen.
According to LG, "The new home screen provides faster access to the most frequently used apps and streamlines content discovery with the ability to receive recommendations based on the user's preferences and viewing history. To show recommended content and related information at one glance, the new home is displayed full-screen as a central hub for settings and the greater webOS ecosystem".
LG goes on to say, "Magic Explorer, an enhanced version of LG's Magic Link, can deliver informative content related to what's showing on screen so viewers can learn more about the actors, locations and other items of interest in the movies and shows they're watching. The content dependent feature can also deliver an easy and friendly shopping experience for products appearing across select broadcast channels and LG TV services including Live TV, Gallery, Settings and TV Guide by changing the colour of the cursor whenever Magic Explorer has information to share".
"The latest version of our user-friendly open TV platform webOS 6.0 represents the most significant update since we first introduced webOS in 2014," said Park Hyoung-sei, President of LG Home Entertainment Company. "With the new edition of webOS, LG is demonstrating its commitment of offering services, products and technologies that respond to the needs and wants of our valued customers."
Next Picks feature analyzes viewers' preferences to discover content suited to their tastes. This is achieved by using the viewers watch history data to recommend live programs from broadcast or set-top box offerings as well as VOD title or app that viewers will find matches the type of content they watch.
LG new Magic Remote
LG's Magic remote has remained largely unchanged for the past few years. In 2021, we will not only get a redesign for the Magic Remote but also some new features as well. The new design of the remote looks to retain the design language of the current LG magic remote while implementing a slightly more squarish design. As per the image, it looks like the remote control will have a matte finish to it. Previously the LG remote control only had one voice button and long-pressing the Prime Video hotkey would bring up Alexa. The new remote control not only has the traditional voice button but also dedicated buttons for the Google Assistant and Amazon Alexa. The remote control also has dedicated hotkeys for Netflix, Amazon Prime Video and Disney+.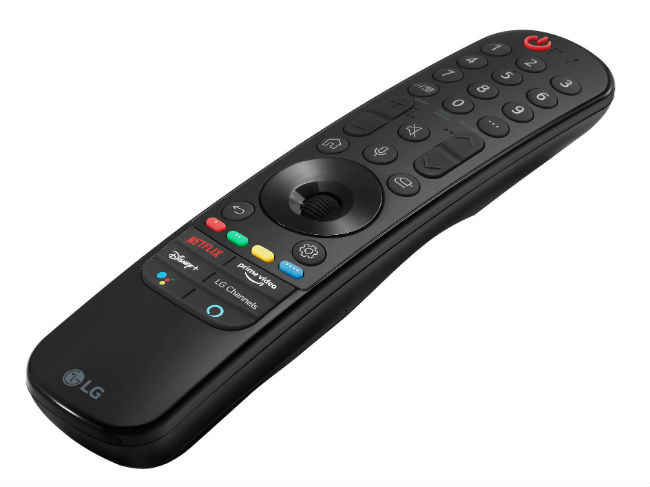 The Magic Remote offers fast connections between the TV and other devices. Using 'Magic Tap', which is a one-touch Near Field Communication (NFC) function on the Magic Remote, users can simply touch a compatible NFC-enabled smartphone to the remote and share content from their phones to the LG TVs or vice versa. LG says that users can also view content stored in these mobile phones on their LG TVs while continuing to use their smartphone apps and features.
While Sony is leaning towards Google's new Google TV UI on their 2021 TV lineup, LG is strengthening its own UI while implementing new features. It will be interesting to see how the new UI's faceoff against each other when we have the new TVs in for review. Until then you can check out our review of the Sony A8H, Sony's 2020 flagship OLED here and the LG GX, LG's 2020 flagship OLED here.