Huawei Smart TV X65 tipped to offer OLED Panel, 24MP pop-up camera, and Hongmeng OS: Report
It looks like Huawei may soon offer an OLED TV. According to a report by My Drivers, the company may be planning to release a 65-inch smart TV with an OLED panel. Called the Huawei Smart TV X65, the TV is touted to offer a range of additional features like cameras and sensors that are aimed at improving user experience.
As per the report, the TV will feature a 24MP pop-up camera that is mounted just above the display panel. This should help with video chatting. It is also said to pack an ambient light sensor that should help adjust the picture quality as per the ambient lighting in the room. Of course, the TV will not come with Android TV due to the restrictions placed on Huawei by the United States, so it is touted to come with the company's own Hongmeng OS. The TV is also touted as offering a way to control the TV without voice or remote control. Speculation suggests that this could be a form of gesture controls.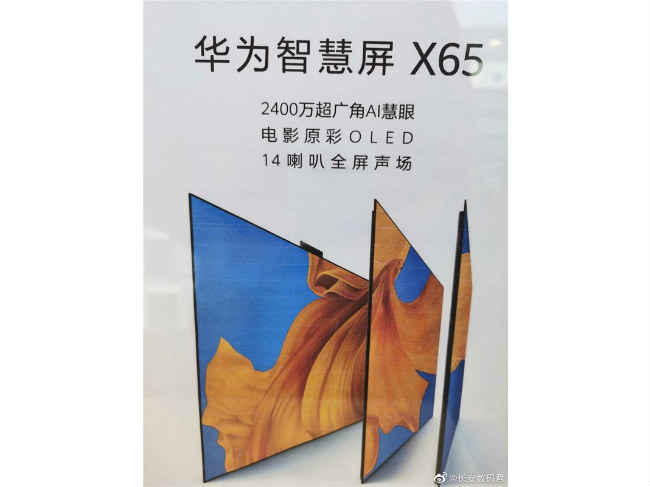 Another impressive feature that the Huawei Smart TV X65 is touted to come with is a 14 speaker setup that is said to be located under the screen. The report notes that it will come with a calibration process that will feel out the room's soundscape and then create a profile for surround sound audio. The TV is expected to be unveiled on 8 April, so expect more information then.
While OLED panels have become quite common among smartphones, the tech is still pretty niche when it comes to TVs. Currently, only a few manufacturers like Sony and LG offer TVs with OLED panels, that too in their premium offerings. Others, like Samsung, are sticking with QLED panels. At least for now.