The FCC listing of the 4K Android TV shows photos of a Dongle and a remote, both with Google logos. However, the device has been produced by Shenzhen SEI Robotics Co Ltd raising speculation that Google might have outsourced production of the device to the
Android TV boxes and devices have almost disappeared from existence with the increasing popularity of streaming sticks like the Google Chromecast, Amazon Fire Stick and even Android powered smart televisions. However, there might still be hope for Android TV devices if an FCC certification is to be believed for what it looks like.
A new certification by the US Federal Communications Commission shows an Android TV dongle accompanied by a remote control, both bearing Google logos. Specifications mentioned in the listing show that the said Android TV device manufactured by Shenzhen SEI Robotics will house Android Oreo, dual-band Wi-Fi 802.11 a/b/g/n/ac, Bluetooth 4.1, and an Amlogic S905X processor with 2GB RAM, 8GB storage. What's more? Well, the Android TV dongle in question will also come with 4K streaming capabilities, making it an overall cheap, yet exciting product.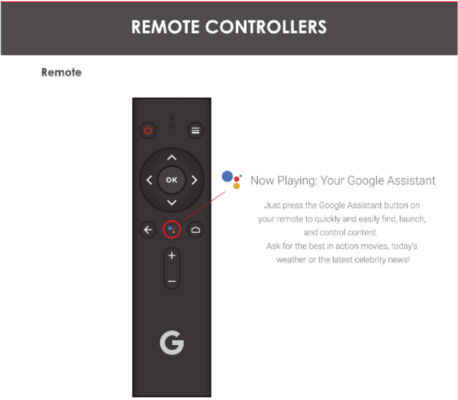 The FCC listing of the Android TV device was first spotted by ausdroid. There's no confirmation of an official name, but the listing has the HDMI dongle labeled as a "4K ATV Stick". The remote that accompanies the device sports a large Google Assistant button on it as well, suggesting that the device will function with voice commands.
While the Android TV dongle does sport the Google branding, it is highly doubtful that Google has anything to do with the device. The company already announced the death of its Nexus Player Android TV by confirming that it won't be receiving the Android P update. However, Google I/O 2018 is just around the corner and this new Android TV could show up there. But for now, this listing should be taken with a pinch of salt. For all we know, the 'G' logo on the Android TV device has just been placed there by the Chinese manufacturer to leverage the Google brand name.