Mukesh Ambani today announced a host of new services, features and devices at the company's Annual General Meeting. One of the most prominent announcements was unveiling of the JioPhone 2. While the device was not demoed, a slide describing some of its features was shown off. A keen observer would have noticed that alongside VoLTE support, the upcoming device will also support VoWiFi. This is in-line with a new report, which suggests that Reliance Jio is done testing its VoWiFi services and it's ready for deployment, as soon as the Department of Telecommunications (DoT) is done with their testing of the service.
As per the report, Jio is ahead of other telcos like Airtel and Vodafone, whose VoWiFi services are said to be still under testing. DoT has pushed the technology for enabling calling over WiFi so that users can make use of public WiFi hotspots for placing calls in areas with patchy or no network connectivity. It is expected that the VoWiFi service will also be enabled on the first generation JioPhone. The report further states that the feature will initially be available only while calling another Jio user, however, the functionality will later be rolled out broadly for calling users on other networks as well.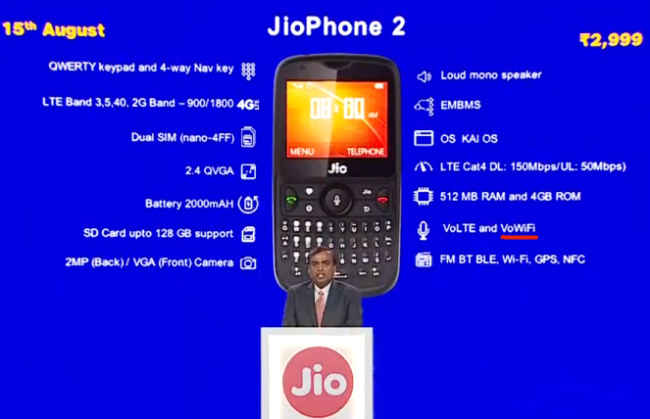 As mentioned above, Reliance Jio has announced some new services and devices for users. Apart from the expected announcement of its JioGigaFiber broadband services, the company has unveiled a new JioPhone 2 smart feature phone, a 4K UHD set-top-box and more. There are now a host of 'smart' products for one's home like smart plugs, connected doorbells, surveillance cameras, audio dongles, video dongles, smart speakers, Wi-Fi extenders, and more, which will be detailed later on the company's website. You can read more about it here.