According to Oppo, the call on WeChat lasted for more than 17 minutes on the network having a bandwidth of 100 MHz.
Oppo has announced that it has successfully made the world's first multiparty video call on WeChat using a 5G network. The company says that engineers from six Oppo R&D centres situated in different parts of the world participated in the video call using popular Chinese app WeChat at 12:57 am local time. Oppo has release a footage of the video call which was made through an Oppo R15 Pro smartphone with 5G capabilities. With the inaugural message "Hello OPPO, Hello 5G", the call lasted for more than 17 minutes on the network having a bandwidth of 100 MHz.
The news comes over a month after, Brian Shen, Oppo Global Vice President and President of China Business Department, claimed that an Oppo mobile phone successfully completed 5G Internet access for the first time. Brian posted the details of how OPPO made the connection successfully between an R15 smartphone terminal and the 5G network, in their 5G communication protocol laboratory environment. The R15 phone used in the test was customised with fully integrated 5G components including Systemboard, RF, RFFE and antenna. The "5G" logo also appeared in the top right corner of the screen, the company said.
Brian also stated that the company would strive to become the first brand to release real commercial 5G smartphones as well. Recently at the Beijing 2018 Qualcomm China Technology and Cooperation Summit, OPPO announced the partnership with the Qualcomm Technologies for a "5G Pilot" programme to explore innovations in the 5G network. Oppo had also unveiled Oppo Research Institute to facilitate the pre-research of core technology as well as to create technical qualification for the company's future product competitiveness.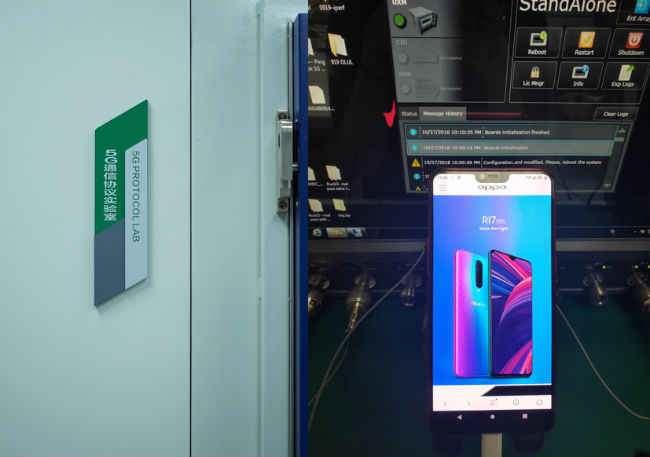 In May 2018, Oppo had announced a successful implementation of the world's first 5G video call demonstration using 3D structured light technology. Conducted at the Oppo Research Institute, a 3D image camera was integrated with an Oppo mobile phone to capture 3D portrait information. The Qualcomm 5G new air interface terminal prototype was used to finally restore the 3D portrait image at the remote receiving display, the Chinese company said. You can read more about upcoming 5G smartphones here.