WhatsApp beta for Android gets the much-awaited Fingerprint lock feature.
For years now, Android users have resorted to using a third-party lock app to protect their WhatsApp messages from becoming accessible to the wrong pair of hands. That's about to change because, from what we've noticed on our devices, the popular messaging app has finally gotten the much-awaited security feature called Fingerprint lock. Note that the feature is currently available only in the beta version of WhatsApp. It's expected to be available to all WhatsApp users in the coming weeks.
Spotted on WhatsApp Android beta version 2.19.221, the new Fingerprint lock feature protects the app with the rightful users fingerprint. In other words, you'll have to use the smartphone's fingerprint scanner to gain access to the app. You'll be prompted with a fingerprint icon every time you fire WhatsApp up. Found in Settings > Account > Privacy, the new feature contains the following description: "When enabled, you'll need to use fingerprint to open WhatsApp. You can still answer calls if WhatsApp is locked."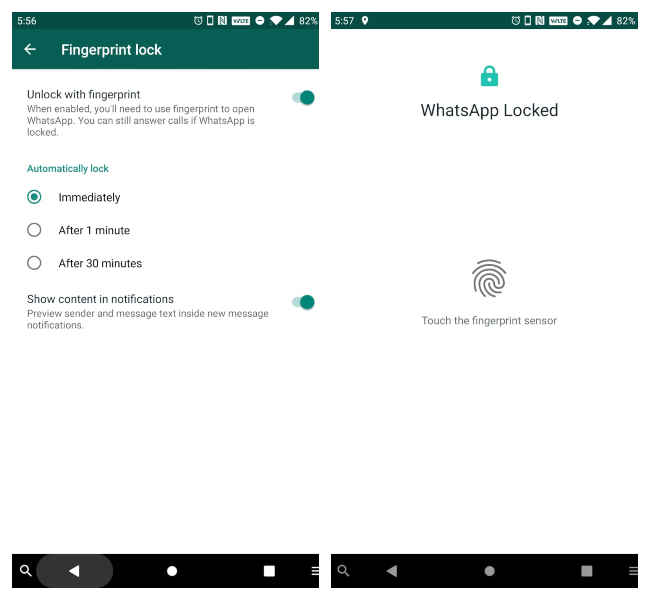 Screenshots of the new WhatsApp Fingerprint lock feature
The latest version of WhatsApp beta comes with additional options for Fingerprint lock. An option called Automatically lock lets you choose a time interval for the automatic locking. "Immediately" is the option for you if you want to be prompted for your fingerprint every single time you launch the app. Another option called Show content in notifications lets you decide if you want the sender's name and message to appear in system notifications.
WhatsApp for iOS received the same feature back in February this year. iPhone and iPad users of WhatsApp can use Touch ID and Face ID on their devices to open the app securely. The feature works on iPhone 5s or later if iOS 9+ is installed. If both unlocking methods fail, users will be able to unlock their WhatsApp by inputting their system passcode. If you want to try the WhatsApp beta for Android, you can head to this page to get started. We suggest you make the decision to move to beta cautiously as beta builds are generally filled with development bugs.