Highlights:
TCL reportedly working on five devices with flexible displays.
The company could be working on two tablets, and two phones with foldable displays.
There could also be a smartphone that could curve into a smartwatch.

Adding more cameras and a notches seemed to be the smartphone trend last year. While it is too early to speculate what this year's major trends might be, foldable display devices do make the cut. Samsung, Huawei, Xiaomi, Energizer and some other smartphone manufacturers have confirmed the launch of their respective phones with foldable displays this year. Other companies like Apple, Xiaomi, Oppo and more are also said to be developing phones with foldable displays and now, you can add TCL to the list too. As per CNET, the TV maker is working on at least five devices that feature flexible displays. Out of five, apparently two are tablets, two are smartphones and the last one is said to be a flexible smartphone that can curve into a smartwatch.
The report is based on some device renders and a patent images that CNET says the company filed. Additionally, one of the tablets could feature a display that folds inwards like a clamshell while the other might work like the Royole Flexpai that bends the display outwards for a display on each side. One of the two smartphones could fold inwards like older clamshell phones, while the other may fold outwards. Finally, the most interesting device of the lot is the flexible phone that folds the displays on the outside to turn into a smartwatch. However, this is a report and nothing has been confirmed yet so, we suggest you take this with a pinch of salt.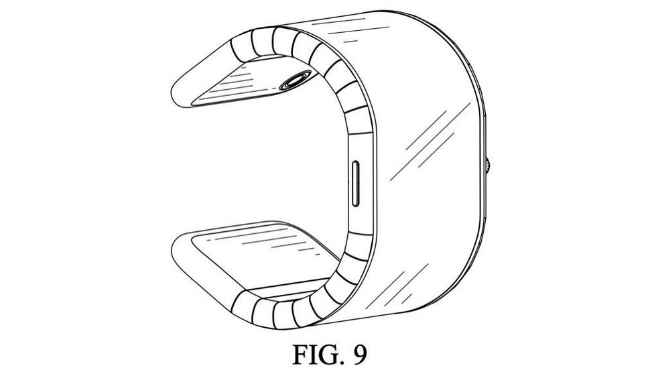 As mentioned above, Samsung will announce its 'Galaxy F' foldable phone on February 20, alongside the Galaxy S10 series. The company has partially showcased the device at its Developer Conference in November last year but in dim lighting and a case to showcase its design elements. Samsung's foldable phone is rumoured to be called the Galaxy Flex, Galaxy Fold or the Galaxy Winner. It will feature two displays, one of which is rumoured to be larger with a 7.3-inch screen, 1536x2152p resolution and 420 dpi. The other one might be 4.58-inch in size with 840x1960p resolution and the same screen density.
Related Reads:
Samsung's foldable phone 'Galaxy F' will unfold alongside Galaxy S10 series on February 20
Latest 3D renders show complete design of Samsung's foldable phone
Samsung foldable phone may have been revealed in company's promo video
All Samsung Galaxy S10, S10+, S10 Lite rumours in one place