Qualcomm announced its plans for launching the Snapdragon 700 series of processors at the Mobile World Congress 2018. However, the company didn't reveal any details of the SoCs under the series. Now, details of two Qualcomm chipsets, the Snapdragon 710 (SDM 710) and the Snapdragon 730 (SDM 730) have been posted online. SuggestPhone posted an image which reveals the details of the two processors, including the process they are being manufactured under and features they could come with.
Qualcomm Snapdragon 710
As per the report, the SDM 710 will be manufactured using the Samsung 10 Low Power Early (LPE) process. The processor is said to come with two high-performance Kryo 3xx cores clocked at 2.2GHz and six low power Kryo 3xx cores clocked at 1.7GHz, along with an Adreno 615 GPU, which is said to max out at 750MHz. It could also support 60+ fps UI for QHD displays, along with HDR10 support. It could support 2×2 MU-MIMO, dual-band WiFi, and Bluetooth 5.0 and might also be equipped with the SDR660 transceiver, which is also present in the Snapdragon 630 and Snapdragon 660 SoCs.
The Snapdragon 710 could be equipped with a Spectra 250 ISP with support for up to 32MP three "concurrent" sensors. It is said to support UFS 2.1, USB 3.1 and USB 2.0 ports, along with eMMC storage types. There's no dedicated Neural Processing Unit for handling AI-related tasks and these could be carried out by the GPU and Hexagon digital processor Vector eXtensions (HVX).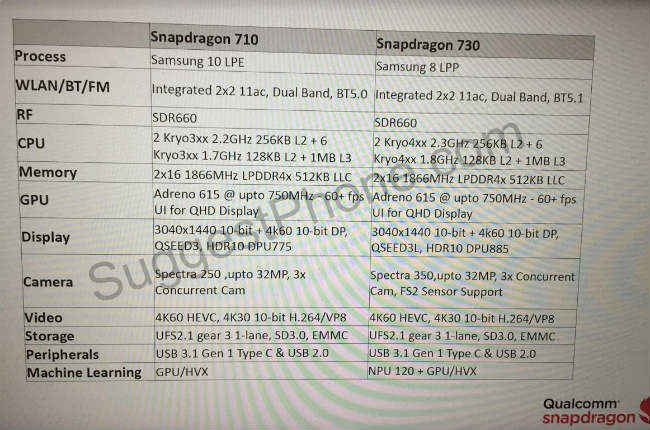 Qualcomm Snapdragon 730
The SDM 730 could be manufactured using Samsung's 8nm Low-Power Plus (LPP) process node. Last year Samsung announced that their foundries are now capable of handling 8nm production and that the SoCs produced will consume 10 percent less power than the 10nm LPP and comes with a 10 percent smaller surface area. Connectivity options on the SDM 730 are essentially the same as the SDM 710 except that it might come with Bluetooth 5.1 connectivity instead of Bluetooth 5.0.
Major differences are touted in the configurations of the two CPUs. The SDM 730 is said to pack two Kryo 4xx cores clocked at 2.3GHz and six Kryo 4xx cores clocked at 1.8GHz. It might be equipped with the same Adreno 615 GPU but could feature Spectra 350 ISP, which comes with FS2 sensor support and also supports up to 32MP three "concurrent" sensors. The SD730 is said to feature a dedicated NPU 120 chip for handling AI and ML tasks. Both the SDM 710 and SDM 730 are showed to feature same video coding capabilities of recording 4K video in HEVC at 60fps and a 10-bit 4K video at 30fps.