Indian smartphone shipments declined by 48 percent in Q2 2020 due to the Coronavirus outbreak and the lockdown. Xiaomi remains the top smartphone manufacturer in Q2 2020
Indian smartphone shipments declined by 48 percent in Q2 2020 due to the Coronavirus outbreak and the following lockdown that led to low supply of products and lesser demands. This is after the smartphone market in India grew by 4 Percent in Q1 2020 but was met with a steep decline in March due to the COVID-19 outbreak. Global smartphone shipments also saw a 13 percent decline as the first quarter saw less than 300 million units shipped.
The second-quarter results shared by Canalys reveal that mobile phone shipments dipped by 48 percent in India with 17.3 million shipments as local production suffered due to the lockdown which led to some manufacturers resorting to importing smartphones. "While vendors witnessed a crest in sales as soon as markets opened, production facilities struggled with staffing shortages on top of new regulations around manufacturing, resulting in lower production output. The fluidity of the lockdown situation across India has had a deep-rooted effect on vendors' go-to-market strategies," said Madhumita Chaudhary, an analyst with Canalys.
Smartphone shipments in India down by 48% in Q2 2020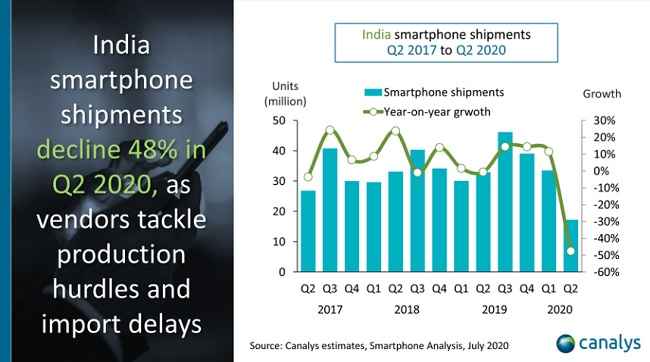 Xiaomi remained the numero uno player in the Indian smartphone market with a 31 percent market share as it shipped over 5.3 million smartphones in the second quarter of 2020. It is followed by Vivo, shipping 3.7 million units and Samsung at the third position with 2.9 million shipments. Oppo shipped 2.2 million smartphones taking the fourth position followed by Realme with 1.7 million mobile phone shipments while all the other smartphone manufacturers shipped 1.4 million units in total.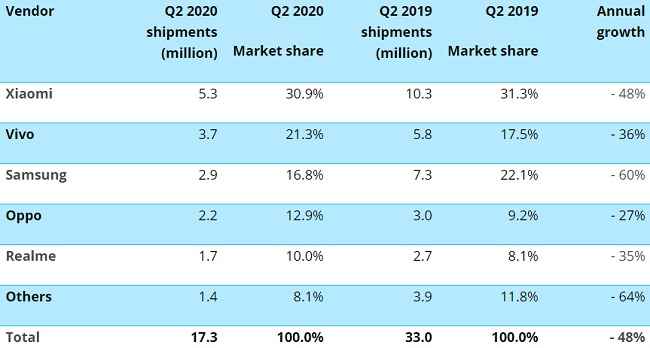 Adwait Mardikar, an analyst with Canalys said, "Vendors are driving the message of 'Made in India' to consumers and are eager to position their brand as 'India-first.' Despite the sentiment, the effect on Xiaomi, Oppo, Vivo and Realme is likely to be minimal, as alternatives by Samsung, Nokia, or even Apple are hardly price-competitive,"
Apple remained the least impacted smartphone manufacturer with shipments down by over 250,000 units in Q2 2020. Having said that, Apple has revealed its plans to double-down on the supply chain in India and is looking to locally produce its smartphones.
The fall in smartphone shipments in India comes at a time when the country is gripped by the Coronavirus outbreak and the end-consumer is holding back on discretionary purchases. Some analysts have predicted that the replacement cycles of smartphones in such cases may become increasingly longer. Therefore the results of the second quarter show a 48 percent decline in the shipments.