#IBMCodePatterns, a developer's best friend.
#IBMCodePatterns provide complete solutions to problems that developers face every day. They leverage multiple technologies, products, or services to solve issues across multiple industries.
Click here to know more
Advertisements
Banners at Samsung's Consumer Electronics Show stall confirm the unveiling of the Galaxy Note Pro and Galaxy Tab Pro at the event. Samsung will reportedly launch four devices at the CES, including the Galaxy Tab Pro 8.4 (SM-T320/T325), Galaxy Tab Pro 10.1 (SM-T520/T525), Galaxy Note Pro 12.2 (SM-P900/P905), and the Galaxy Tab 3 Lite (SM-T110/T111). These will come in Wi-Fi and LTE models except Tab 3 Lite. All tablets will be available in the standard white and black color options. The Tab Pro 8.4 and 10.1 will come with 16GB of storage while the Galaxy Note Pro 12.2 will have 32GB storage out of the box.
The LTE-equipped Galaxy Note Pro 12.2 (SM-P905) comes with a 12.2-inch display with a resolution of 2560×1600 (WQXGA) pixels and 16:10 aspect ratio, quad-core Qualcomm Snapdragon 800 SoC (8974-AA) clocked at 2.3GHz, Adreno 330 GPU with a clock speed of 450MHz, 3GB RAM, 8 Megapixel main camera sensor capable of shooting Full HD 1080p video and a 2.1 Megapixel front facing camera. The device will run Android 4.4.2 KitKat and a new version of Samsung's TouchWiz interface.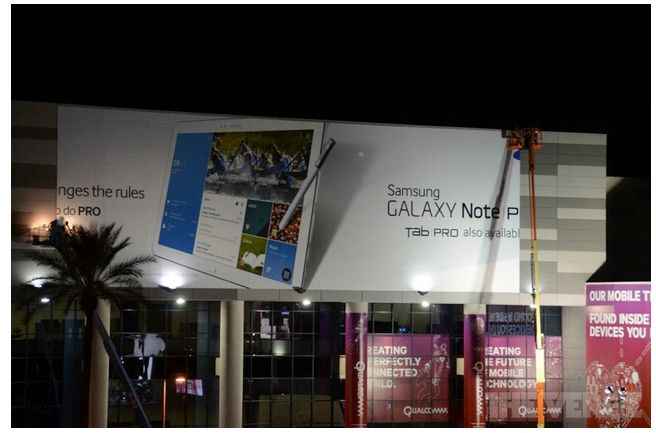 Image courtesy: TheVerge
Source: Sammobile