Amazon Great Indian Festival sale
Up to 60% off on Electronics and other items.
Click here to know more
Advertisements
Samsung is just a few days shy of revealing the Galaxy S9 and Galaxy S9+ at the Mobile World Congress 2018. In preparation for the event which will be held a day before MWC officially commences, Samsung has made available the Unpacked 2018 Android app on the Google Play Store. The app has a new Augmented Reality feature this time around. The Unpacked 2018 Android app comes with an AR button at the top right corner of the app's home screen, tapping which allows users to scan any Samsung logo and display the venue for the Unpacked event in AR, along with the Feb 25 launch date and time. However, XDA reports that a Reddit user /u/thesbros was able to teardown the app and get to the 3D models of the Galaxy S9 smartphones.
The task is not as easy as it sounds and the publication reports that the 3D models of the Galaxy S9 were actually obtained from Samsung's website. Thus, a modification to the Unpacked 2018 app was required to get to the 3D models. It is believed that Samsung will make the AR experience available to attendees of the event, which includes us!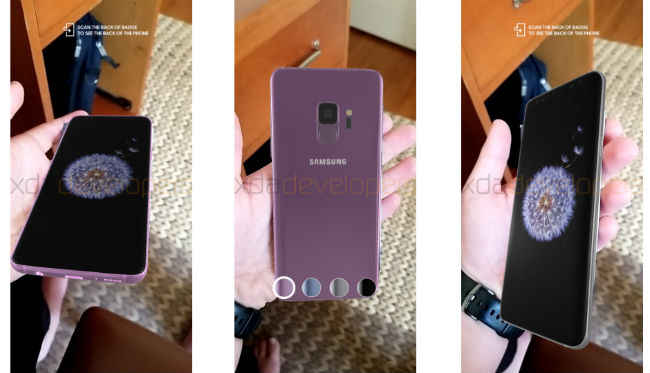 The official 3D models of the Galaxy S9 confirm that the smartphone will have a single primary camera with the fingerprint sensor placed just below it. The smartphone is seen in its Lilac Purple avatar. A Bixby button can also be seen along with a bottom firing speaker grille. The 3D model also shows a quad LED flash at the back, similar to Apple's quad LED flash as well as a new heart-rate monitor design. The S9 is also seen in other colour variants - Midnight Black, Titanium Gray, and Coral Blue - and the AR experience will allow users of app to switch between various colour models.