#IBMCodePatterns, a developer's best friend.
#IBMCodePatterns provide complete solutions to problems that developers face every day. They leverage multiple technologies, products, or services to solve issues across multiple industries.
Click here to know more
Advertisements
Realme has announced the 'Realme Freedom Sale', which will start from August 1 and run through August 3. During the sale, the company is offering discounts on Realme 3 Pro(₹ 13999 at flipkart) (Review), Realme C2, and is also debuting phones on the offline platforms. Apart from it, the company will also make available the Realme 3's Diamond Red colour on offline stores. The discounts will be available on products which will be sold on Realme.com and Flipkart.
During the sale days, the Realme 3 Pro will have Rs 1,000 off on all variants: 4GB RAM + 64GB storage, 6GB RAM + 64GB storage and 6GB RAM + 128GB storage. The Realme 2 Pro will be available with a discount of Rs 500 off (4GB RAM + 64GB storage), the Realme C2 will be priced at Rs 5,999 for 2GB RAM + 16GB storage, Rs 6,999 for 2GB RAM + 32GB storage and Rs 7,999 for 3GB RAM + 32GB storage. The Realme C1 will be available at Rs 6,999 for 2GB RAM + 32GB storage variant.
Further, the Realme 3 Diamond Red will also be available on realme.com, Flipkart, and offline stores from August 1 onwards at a price of Rs 8,999 for 3GB RAM + 32GB storage, Rs 9,999 3GB RAM + 64GB storage and Rs 10,999 for 4GB RAM + 64GB storage version. The Realme X(₹ 17599 at amazon): Spiderman Far from Home edition will be available with a gift, and it will cost Rs 20,999 on offline channels on July 30 (limited stocks). All variants of the Realme X (Review) will be available across all Realme offline stores from August 3.
"Realme X Spider-Man Edition is designed to cater to the specific needs of India's young and vibrant consumers and invites them to 'Dare to Leap'. Having registered a strong demand for the limited-edition smartphone during our recent online sale, launching it in offline stores was the next logical step for us at realme. We have handpicked our offline partners with great care to ensure that Realme customers have the most satisfying purchase and ownership experience," Madhav Sheth, Chief Executive Officer – realme India, said in a statement.
Realme online sale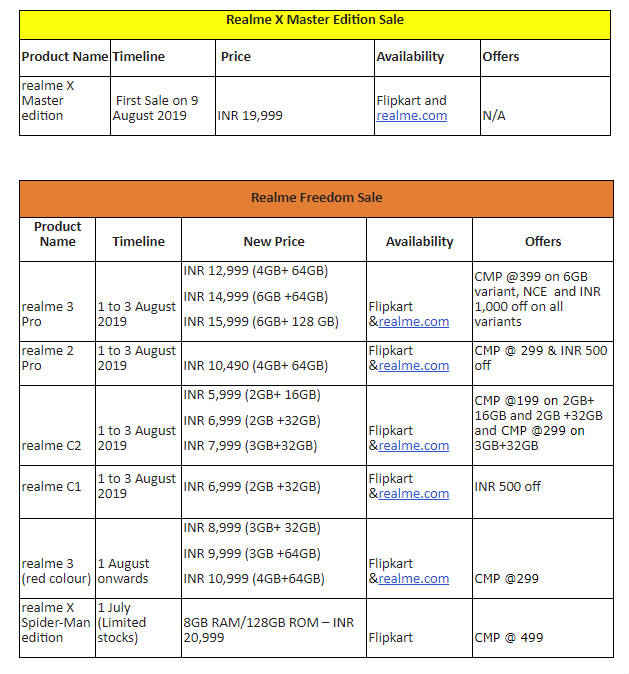 Realme offline sale