OnePlus UK's twitter handle has released a mysterious video that hints at a new concept device
There's never a dull moment for the people at OnePlus. Just as the hype around the OnePlus Concept One was starting to simmer down, OnePlus UK's twitter handle has announced the existence of another new product. A short video on the Twitter page lists March 3 2020 as the reveal date.
The video shows a collection of pipes and metallic structures, without giving a clear idea of what the device could be. According to OnePlus UK's tweet, this is not a smartphone or even a commercial product for that matter, leading us to believe that OnePlus may be gearing up to reveal another concept project to the world.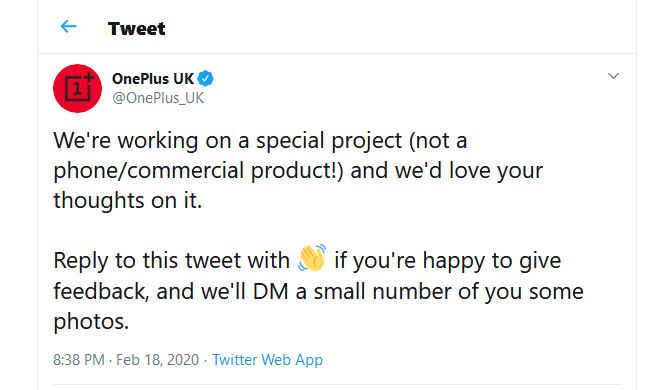 Analysing the video, there seems to be a myriad of suggestions in there. At initial glance, the metallic parts seem to resemble the inside of a watch, but then we see a pipe-like structure that's more commonly associated with the type of lens known as the probe lens. Briefly, we also see the number 6 machined into the side of one of the panels. Needless to say, the video is not giving much away, but thankfully, the official reveal is only a few days away.
OnePlus is expected to launch the OnePlus 8 and the OnePlus 8 Pro in the coming months, expectedly a little sooner than usual. Usually, OnePlus themselves start releasing bits of official information about the phone ahead of launch, and since that hasn't happened yet, we can assume that this teaser is not for the phone. OnePlus also recently showed off the Concept One, a smartphone that the company said will not be available for sale. The smartphone's main USP was the electrochromic glass that was used to cover the camera assembly, making the cameras completely disappear when not in use. OnePlus also said that the glass could double us as a neutral density filter.