Want to modernise your banking loan application?
Build an application that analyses credit risk with #IBMCloud Pak for Data on #RedHat #OpenShift
Click here to know more
Advertisements
Only last week did OnePlus show off its sensational Concept One prototype smartphone with 'disappearing cameras' at CES 2020 and already it's ready for a second round of tech demo. This time though, the technology improvement will lie in the phone's screen. According to a press invite shared on Chinese social media platform Weibo, OnePlus is hosting an event on January 13 to talk about its new screen technology. It could well be a refresh rate upgrade from 90Hz to 120Hz on its next model, or something else entirely. We'll just have to wait till Monday to find out.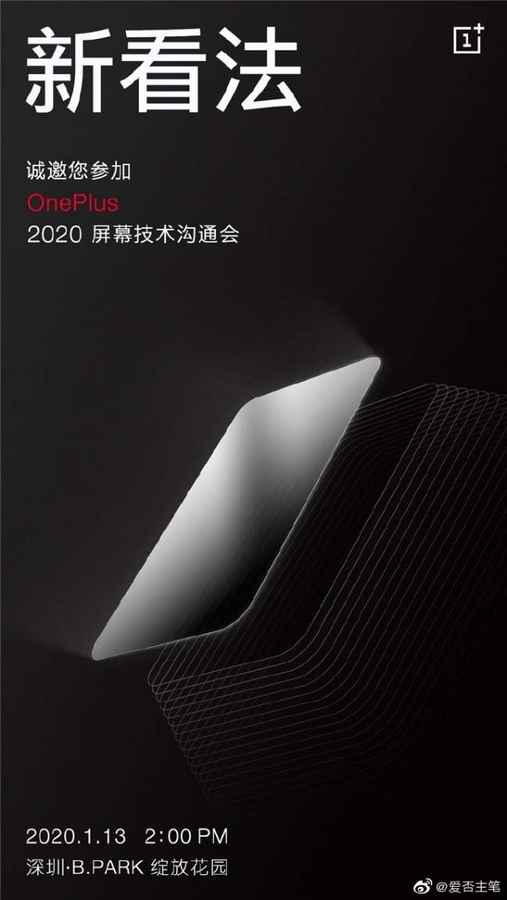 Just by looking at the invite shared on Weibo it's easy to tell that OnePlus is going to talk about a new smartphone screen technology on Monday. The event is expected to take place at the B.PARK restaurant in Shenzhen, China, which isn't far from OnePlus' headquarters. There's a good chance the popular Chinese phone maker will talk about upping the refresh rate on its phones' screen from the current 90Hz to 120Hz. That said, the company could follow Oppo's tracks and showcase an in-display selfie camera tech.
CES is not generally known for smartphone tech demos but this year OnePlus went ahead and demoed its Concept One prototype anyway. The OnePlus Concept One is a concept smartphone with a special rear camera setup. The top-most layer of the camera stack employs an electrochromic glass technology, which allows the layer to hide or show the cameras underneath, thus creating a 'disappearing cameras' effect. A similar technology is used in the Boeing 787 Dreamliner commercial jet airliner so the windows can be 'dimmed' electronically.
OnePlus, however, says it drew inspiration from McLaren's 720S sports car, which uses the same electrochromic glass technology to create an electronically dimming sunroof. The leather stitching around the camera stack on the back of the Concept One, too, is inspired from the seats of McLaren's luxury sports car. Though the Concept One was co-created with McLaren, this isn't the first time the two companies have come together to market McLaren-inspired smartphones. OnePlus sells a special McLaren Edition of some of its smartphones, including the outgoing OnePlus 7T Pro. You can read our review of it here.