Highlights:
OnePlus to skip OxygenOS 9.0.0 after build issues
The company is currently rolling patched-up OxygenOS 9.0.1
We must admit, we were quite exasperated to see our Chrome's 'Articles for you' section fill up with news stories about the OnePlus 5 and the OnePlus 5T receiving the new Android 9 Pie update because every time we went back to the System Updates section on our OnePlus 5 and hit Check for Updates, our phone reported it was very much up to date, thank you very much. Ever since the first whiff of the Pie for the OnePlus 5 came out seven days ago we've been visiting the System Updates section hourly, like a student waiting for their board exam results to come out.
Having run all out of patience by Monday afternoon (December 31), we wrote to OnePlus on Twitter. The Chinese company's reply, though prompt, left us all the more disappointed. The reply we received read, "We are sorry to inform you that, due to some issues in this software build, we will not roll out 9.0.0 globally for OnePlus 5 & OnePlus 5T. We already prepared next build 9.0.1 (with 9.0.0 issue fix) which we planning to partial roll out around 01/01/2019, then we will roll out 9.0.1 globally within two or three days later. We request you to stay tuned for next update."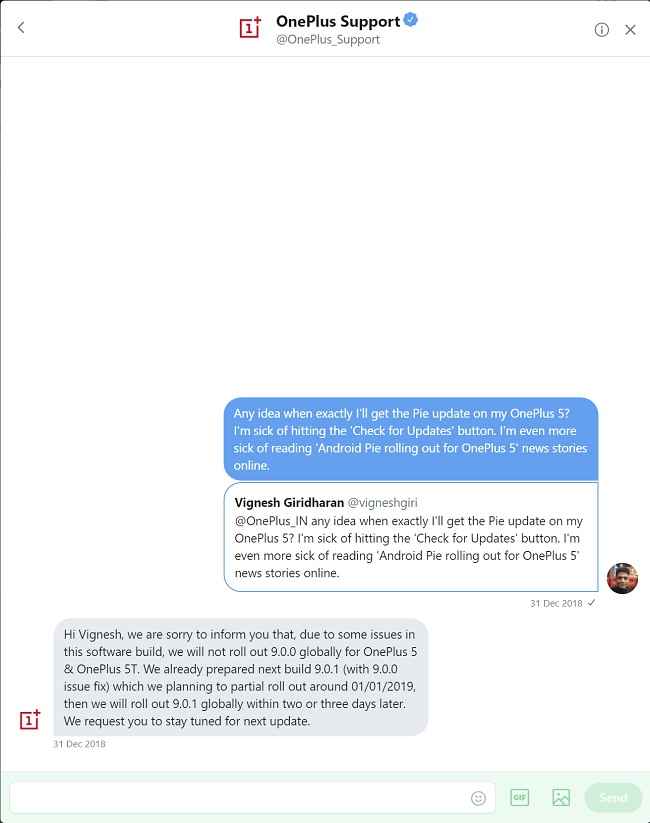 Here we are sitting in the office two days after the Twitter exchange with OnePlus, still hitting Check for Updates over our morning coffees but seeing absolutely no signs of the new patched-up update. The sad thing is that OnePlus was apparently already doing a lot to ensure its users got their pie around Christmastime. "Our software team worked overtime, staying up late tonight, they just wanted to send this Christmas gift to our community, so do let them know if you like it. Enjoy and wish everyone a wonderful holiday!" wrote Community Manager David Y on the OnePlus Forum.
Despite the last-minute hiccups, we expect to see the OxygenOS 9.0.1 update roll out to our OnePlus 5 sometime in the next two or three days. The new Android 9 Pie update promises a new look, Gaming Mode 3.0, a redesigned DND (Do Not Disturb) mode, the new navigation features (for OnePlus 5T only), and an integrated Google Lens mode in the default camera app, among other additions. Until then, keep revisiting the System Updates section with crossed fingers.
Related Read: