According to the leaked benchmark listing, OnePlus 3 will have a 16MP rear camera and a 5-inch 1080p display.
OnePlus 3, which was earlier rumored to be launching on April 7 is still under the wraps. However, the upcoming phone was seen earlier today on the Geekbench as well as on the GFXBench website. The leaked benchmarks reveal that the phone is powered by Qualcomm's Snapdragon 820 SoC and features a whopping 6GB of RAM. The phone was earlier spotted sporting a 4GB RAM on Antutu.
According to the leaked Geekbench benchmark, the said phone, codenamed 'RAIN RAIN 3000' achieves a score of 2266 points on the Single-core benchmark and a score of 5012 on the multi-core benchmark. Going by the date on the webpage, this score was recorded on April 21, 2016. According to a more recent listing on Geekbench, a device with the same codename featuring 4GB of RAM scored 2314 and 5450 respectively, in the single-core and multi-core benchmarks. Another phone having a similar Snapdragon 820 and 4GB RAM setup was seen on the Geekbench benchmark as well, with a different codename "RAIN RAIN A3003". It is likely, that OnePlus is making different variants of the phone like last time, one for international markets, one for China and one most probably for the US.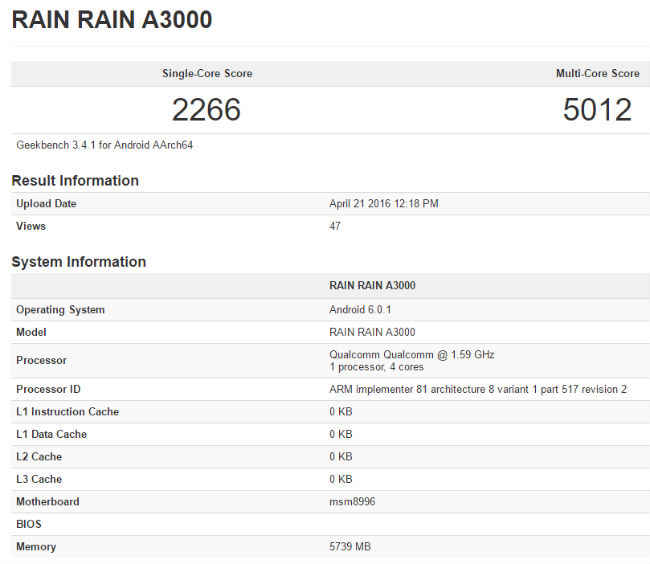 RAIN A3000 aka OnePlus 3 was also seen listed on the GFXBench synthetic benchmark, revealing some of the key specification of the upcoming smartphone. According to the leaked benchmark, the phone may feature a 5-inch 1080p display. It will be powered by a Qualcomm Snapdragon 820 SoC and 4GB of RAM. The on-board storage listed here is 64GB and it is likely that the company may announce different storage options as well. The listing suggests that the phone will have a 16MP camera at the back, which will support 4K recording, and an 8MP camera at the front.