The Nubia Red Magic 3 gaming phone features a Snapdragon 855 processor with up to 12GB RAM and 256GB storage.
The Nubia Red Magic 3 is here and it joins the Black Shark 2 and the Asus ROG phone in league of gaming smartphones. It's a relatively new breed of devices that promise a better gaming over everything else and almost everything that features in the phone will be made relatable to gaming. The Nubia Redlll Magic 3 is no different. The phone's design,l specs and features will make any smartphone gamer happy, and the starting price tag of Rs 35,999 does sound justifiable. But what does the Red Magic 3 have to offer?
Nubia Red Magic 3 specs
Let's do away with the spec-sheet first. The Red Magic 3 is powered by the flagship Qualcomm Snapdragon 855 which is not surprising because every phone that's been branded as a gaming device rocks the flagship processor from Qualcomm this year. And for good reason. Qualcomm has been pushing the agenda of turning smartphones into dedicated gaming devices and the Snapdragon 855 plays a big role in that. There are a handful of features which Qualcomm calls 'Elite Gaming' that makes it one of best processors to have for smartphone gaming. These include the ability to convert SDR games to HDR, frame rate optimisation, high quality audio and better network latency. It's no brainer, as a result that a de facto gaming device will house the Snapdragon 855.
Nevertheless, the processor is paired with up to 12GB of RAM along with 256GB of storage. If you can recall, even the Black Shark 2 is offered with outrageous amount of RAM. It kind of makes more sense to have 12GB RAM in a gaming phone, because it's in the nature of hardcore gamers to keep their machines future-proof. Finally, there's a 5,000mAh battery that Nubia claimed can let you play PUBG Mobile forn7 hours straight on a single charge. It tops up with a 27W fast charger, where 10 minutes of charge can deliver an hour of gameplay.
On the back is a single camera with 48MP resolution. It can apparenty record 8K videos and 1920fps slo-mo video. On the front is a 16MP shooter.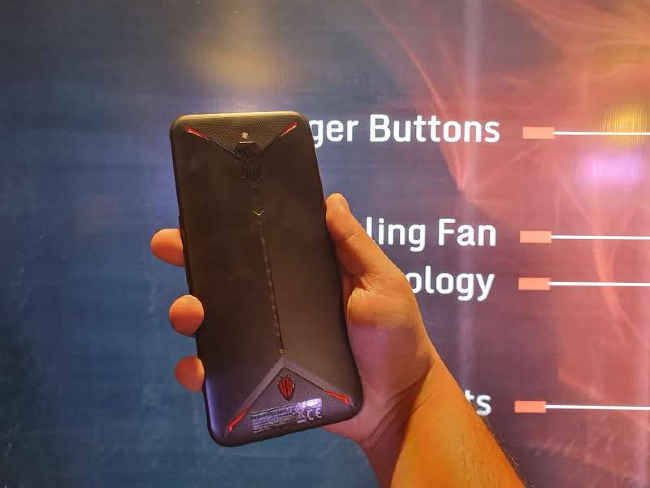 Nubia Red Magic 3 gaming features
The most obvious feature aimed at pleasing gamers is ofcourse the phone's design. The Red Magic 3 retains the gamer-centric design with distinct curves in the body and RGB light strips. As part of a gamer-centric design, the phone also has rather thick bezels on the top and the bottom of the display. Cradled amidst the display is 6.65-inch AMOLED display with 90Hz refresh rate and FHD resolution and 16:9 aspect ratio. It's also rated for HDR but we're not sure whether Netflix and other streaming sites are HDR-certified as well.
There's also a physcial button on the side that takes you into GameBoost mode. It's much like Black Shark's SharkSpace.
Then there's also an in-built fan inside a body which is a first for a smartphone. Fans are common in large gaming devices like PCs and consoles, but never on a phone. The fan has a vent from where it pushes out hot air in the side.
Then there are pressure-sensitive trigger buttons like the ROG Phone on the edges. These buttons can be customised and can be considered for a four-finger grip while playing games like PUBG Mobile. There's also customised haptic feedback for game sounds and scenes.
Inside Game Space, there are a host of options that lets you mute notifications, block calls, check on thermals and more. It also kills the apps in the background to free up resources.
There's also a gaming dock that connects to the phone using a magnetic pogo connector. The dock is used as a secondary port for charging and for plugging in a headphone. There's also a LAN port that you can use if the Wi-Fi is yoo slow. Nubia also showed a gamepad that attaches to the side but Nubia didn't disclose if it will be launching in India.
Nubia Red Magic 3 price and availability
The Nubia Red Magic 3 will be launching in two variants with 8GB RAM and 128GB storage and 12GB RAM with 256GB storage. The former will be availabe at Rs 35,999 in Red and Black colour variants while the latter is priced at Rs 46,999 in Camo colours. The device will be available in Flipkart from 27th June, 12PM onwards.