Citing sources, XDADevelopers reports that the GPU is Qualcomm's Adreno 616, and though the chipset offers support for Qualcomm Quick Charge 4+, there is no confirmation on the kind of fast charging that the Motorola Razr will offer.
Highlights:
Moto Razr is reported to have Qualcomm Snapdragon 710 SoC.
It could come in 4GB/6GB RAM and 64GB/128GB storage options.
It may have a 6.2-inch OLED display.

Several reports have suggested that Motorola is developing a foldable phone that will be named Moto Razr, however, none of them revealed the internals of the device. XDADevelopers now claims that it has spoken to people familiar with the matter and that the handset will be powered by the Qualcomm Snapdragon 710 processor. The tech news platform also claims that it got access to the original image that the company will apparently use as the logo of the foldable phone.
It says that the logo belongs to the "Voyager" device which is reportedly the codename of this Moto foldable phone. There are chances that the phone will be called the "Motorola Razr" or "Moto Razr" to play the nostalgia angle, but we'll be using the "Moto Razr" moniker till the final name is confirmed by the company. The folks at XDA are also "confident" that the phone is launching on Verizon.
Moto Razr specifications
As mentioned, Moto's foldable phone is expected to feature the Qualcomm Snapdragon 710 mobile platform under the hood, complemented by 4GB/6GB RAM and 64GB/128GB local storage. The Snapdragon 710 has 8 CPU cores built on Qualcomm's customized Kryo 360 architecture. The GPU is said to be Qualcomm's Adreno 616. The battery capacity is tipped to be 2,730mAh. The chipset offers support for Qualcomm Quick Charge 4+, but there are doubts about the kind of fast charging that the phone will offer. It is speculated that the smartphone will support Motorola's 27W TurboPower charging.
When it comes to the display, the primary display is likely to be a 6.20-inch OLED panel offering 876×2142 pixels resolution. The "closed" or secondary display is said to offer a resolution of 600×800 pixels. The phone may be offered in white, black, and gold colors. On the software front, the phone is expected to come pre-installed with applications like Moto Display, Moto Actions, and the Moto Camera app.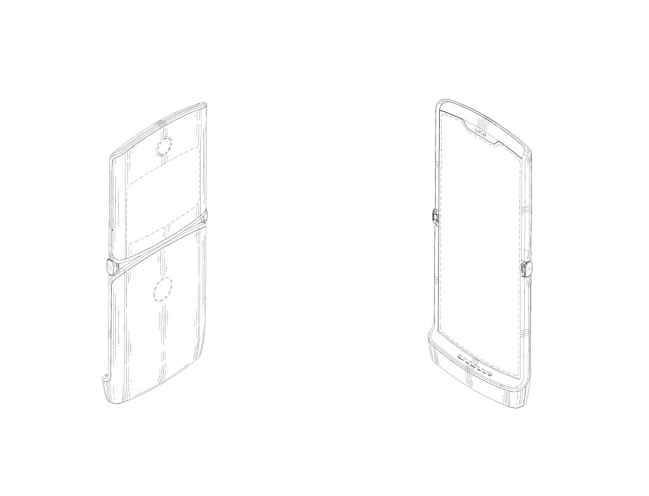 A previous report which talked about the phone's patent showed a notch on top of its display and a thick chin. The chin quite closely resembles the one seen on the legacy Moto Razr handset and it could be a design element that the company could stick with for playing the nostalgia card. A report suggested that it could be priced starting at $1,500. The first mention of a foldable Razr phone was seen in February last year, when Lenovo CEO, Yang Yuanqing talked about bringing it back.
Related Read:
Galaxy Fold 2? Samsung patents foldable phone that bends outwards