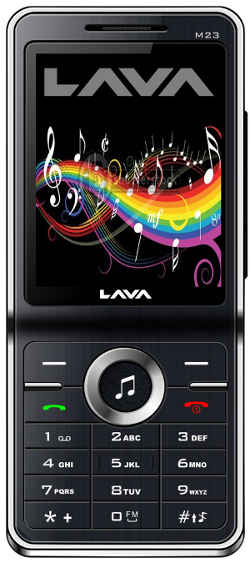 Owing to an overwhelming popularity of LAVA A9 and its mesmerising presence(unique design & stylish looks) in the Indian market, LAVA International Ltd., one of the leading companies in Indian mobile industry yet again promises to set the mobile market ablaze with the unveiling of M23.
LAVA Mobiles has unleashed a new handset LAVA M23 - the music series, which promises to be a perfect blend of entertainment & fun, that could undeniably quench your thirst for Music. LAVA M23 appears to be a stylish, dual SIM phone that is meant to be designed for the music lovers. The phone is rated to possess high acoustic clarity and capability to touch the heart of the listeners. In addition, it reportedly ships with an audio jack, which is expected to make the feel of music much clearer & appealing. It is presented to the consumers at a very affordable price of Rs.4, 499/-
It seems like LAVA international has reportedly unleashed a power-packed handset to appeal to the sentiments and craze of the music fanatics by adding spunk & style with a feature-rich mobile phone.
M23 is purportedly preloaded with MP3 player that promises to encourage users to explore and enjoy different melodies at ease. It is quoted to ship with an expandable memory slot up to 8 GB that could store more than 1500 songs. For the purpose of sharing music library with others, it is said to incorporate Bluetooth with data transfer capability. The Bluetooth is also said to support A2DP profile through which the music could be enjoyed on wireless Bluetooth enabled headsets.
M23 is apparently built to support MP4 to encourage music lovers to utilize visualization feature and shows off a high resolution 2.2 inches TFT, 65k colour screen for an enjoyable video playback. In addition, it is shipped with a high resolution digital camera to capture the golden moments of your lifetime(1280*1024pixels), and a MP4 player. LAVA M23 truly promises to tap the pulse of its customers with its feature-rich multimedia capabilities. The phone also features FM radio, providing you the choice of cherishing the performance of your favorite artists.
Shipped with a 850 mAh battery, it is rated to provide a long talk time up to 5 - 6 hours and the 8GB expandable memory option could enable the users to hoard all their favorite music collection. In addition, it is equipped with sophisticated features such as WAP and GPRS.
It seems that LAVA's initiative to enthrall and tap the pulse of the customers doesn't end there. It appears that LAVA has upgraded more tricks up its sleeve by introducing 2 more utility accessories - a desktop charger and one extra battery along with 2GB Micro SD Card. "LAVA - Power in your hands", seems to be the magic mantra that could prove to be a golden hand shake as the company has opted to emphasize duality, by offering dual SIM along with dual batteries. Breaking away from the clutter of modern world - monotonous candy bar phones, M23 reportedly stands aloof, owing to its high-tech design and stylish looks with the power to mesmerise one and all.
Commenting on the launch of M23, Mr. SN Rai, co-founder & Director, LAVA International Ltd., has reportedly said that, "Nowadays mobile phones are becoming a need more than a necessity, need of flaunting with the tech rich gadgets amongst good pals. And this kind of behavior has been seen generally in the youngsters. That's why taking the market scenario and going through the needs of such instincts we decided to come up with a product that would cherish our youth.". Further adding that, "These instincts like listening music on the go while going to school, college or office. This was the vein which we tapped and came up with a handy solution of coming up with a phone that would deliver good quality music. With the beats of high quality music and other features, we are very sure that M23 would grab hold of the heart beats of all Indian Young Turks."
Specifications:
dual SIM feature
2.2 inches TFT screen
LCD resolution: 176x220
Formats supported: MP3, MP4
FM radio
Digital camera –1280x1024 pixels
Video player
Video recording (no limitation on duration)
850mAh battery
Wireless Application Protocol (WAP)
GPRS
Bluetooth
Memory – T Flash Card support upto 8 GB
2GB micro SD Card shipped
3.3mm universal audio jack
Desktop charger
2 batteries
Hindi language support
Price: Rs. 4, 499/-