Dell Vostro
Power New Possibilities | Dell PCs starting at Rs.35,990*
Click here to know more
Advertisements
Even as Facebook's mobile app for the iPhone runs well on the iPad, the social networking giant has not yet announced its official iPad app. A dedicated app for iPad would help take advantage of extra screen space on the iPad. But it seems Facebook's much awaited and talked about iPad app is on its way. The folks at TechCrunch have found that codes of the latest Facebook iOS app already have an iPad user interface.
It's notable that Internet has been long abuzz with speculations of a dedicate Facebook app for iPad. The company presently offers full-fledged smartphone apps for different OS such as iOS and Android. The iPad users however needed to access Facebook via Safari browser. Soon after the iPad was launched, rumours cropped up frequently regarding a Facebook iPad app.
[RELATED_ARTICLE]
The rumor was fueled when Facebook announced last month that it was going to come up with "something awesome". However, the awesome announcement turned out to be Skype-powered video chat service. Facebook CEO Mark Zuckerberg said earlier this month that the video chat service was first of what it dubbed as company's "launching season 2011."
TechCrunch said on its blog that it had discovered various Facebook features in that iPad app. The blog claimed that it was able to access news feed, chat with friends, Places and many other features. TechCrunch went on to dub the app as "spectacular".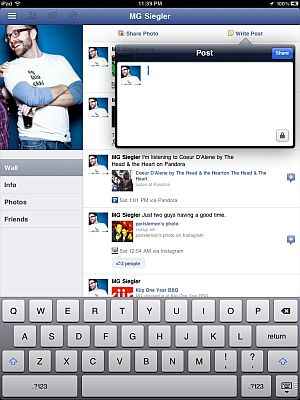 screenshot of reported iPad app
image courtesy: TechCrunch