Highlights:
The Google Pixel 4 was once again spotted on AOSP Commits.
The Pixel 4 is undergoing testing by Google developers.
The device is expected to come with dual rear and front cameras.
The Google Pixel 4 that is expected to launch in the second half once again surfaced on commit changes spotted on AOSP (Android Open Source Project) Gerrit, giving yet another confirmation that the flagship is indeed going to launch this year. In February, the commit changes revealed the Google Pixel 4 might get improved dual-SIM capability. This time, the Pixel 4 was once again spotted on commit changes about an issue in the Linux kernel.
The new commit was first spotted by 9to5Google and was made by a Google employee on April 2. It talks about fixing "false positive KASAN warning on suspend/resume". Essentially, that means an error in fixing bugs that gives false positives. KASAN stands for KernelAddressSanitizer and is a dynamic memory error detector that finds use-after-free and out-of-bound errors in the Linux kernel. The bugs that KASAN detects are onces that send an error report even when there's no such issue in the first place.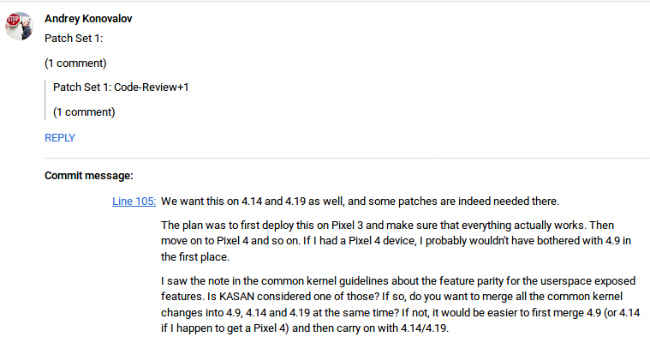 About this kernel tool, the Google employee commented, "The plan was to first deploy this on Pixel 3 and make sure that everything actually works. Then move on to Pixel 4 and so on. If I had a Pixel 4 device, I probably wouldn't have bothered with 4.9 in the first place."
The above comment might only make sense to an Android developer and might not be of importance to the general public, but it does indicate that the Google Pixel 4 is under testing. Google employees are working on resolving bugs and issues with the device.
The Google Pixel 4 has surfaced online before as well. While the launch is still far away, an earlier AOSP commit had revealed the Pixel 4 will enable Dual SIM Dual Standby protocol and an alleged schematic of the Pixel 4 XL show a punch-hole design like the Samsung Galaxy S10, with uniform bezels around the edges. The schematic also revealed the Pixel 4 might come with dual cameras on both the front and back, which should be interesting to see. Furthermore, there could an in-display fingerprint sensor in the upcoming flagship.
Related Read:
Google Pixel 4 with Android Q could finally support Dual SIM Dual Standby
Google Pixel 4 XL could sport punch-hole for selfie camera