Qualcomm's Quick Charge 5 comes with more than 100W charging. Quick Charge 5 is expected to appear in commercial devices in Q3 2020. Xiaomi also announced its collaboration with Qualcomm to adopt the Quick Charge 5 technology in its future devices.
American chipmaker Qualcomm today unveiled the latest iteration of its fast charging technology - Quick Charge 5 - that comes with more than 100W charging that's also the fastest commercial charging solution on mobile devices. It is said to be 70% more power-efficient than the Quick Charge 4.
Quick Charge 5 is expected to appear in commercial devices in Q3 2020. For now, Quick Charge 5 is supported on Snapdragon 865, 865 Plus, and all the upcoming premium-tier Snapdragon mobile chipsets. It will be compatible with wired and wireless charging technologies.
At the launch, Xiaomi also announced its collaboration with Qualcomm to adopt the Quick Charge 5 technology in its future devices. "Quick Charge solutions are widely available in a variety of mobile devices. The latest generation of Quick Charge 5 not only provides superior charging capabilities but helps intelligently extend a device's battery life and reduce thermal output," said Zhang Lei, VP, Mi Phone. Xiaomi had revealed last year that it was working on a 100W Super Charge Turbocharger, showing how it can top up a 4,000mAh battery from 0-100% in just 17 minutes. Recently, a leak showed a Xiaomi charger can top up a phone with 120W power.
What's new in Qualcomm Quick Charge 5?
The Quick Charge 5 technology claims to charge a 4000mAh battery up to 50% in 5 minutes and 100% in less than 15 minutes. Note that real-life results may differ as per the device design and configuration. Apart from promising fast charging speeds, the company says QC 5 uses Qualcomm Battery Save and a new Qualcomm Smart Identification of Adapter Capabilities technology to increase power efficiency and battery life on the supported device.
Qualcomm says that Quick Charge 5 is 70% more efficient than Quick Charge 4 and 10x power delivery rate (on a 4500mAh battery with a max thermal power up to 40-degree Celsius) compared to the first-gen Quick Charge tech. It also supports 2S batteries where two cell units in a single battery are used and, 20 Volts of power delivery as well.
To keep its super-fast charging tech secure, the company has ensured safety by incorporating a dozen of separate voltage, current and thermal protection. It includes USB-input overvoltage protection at 25V and external power controls beyond 30V. Additionally, it is said to be 10-degree Celcius cooler than Quick Charge 4.
To increase power transfer efficiency, battery life and safety, Qualcomm has enabled Dual/Triple Charge technology, adaptive input voltage, INOV4 (Intelligent Negotiation for Optimum Voltage), Qualcomm Battery Saver and a new Smart Identification of Adapter feature on the Quick Charge 5.
Qualcomm's Dual Charge technology aims to keep the temperature low while charging by splitting the current into two streams, which also increases the charging speed. The INOV is Qualcomm's algorithm that is said to deliver optimum power transfer while maximising efficiency by keeping battery, chipset and connector's thermals at check.
Qualcomm's new power management integrated circuits (PMICs) make a difference
Qualcomm has also unveiled new premium tier power management integrated circuits (PMICs) - SMB1396 and SMB1398 - with the Quick Charge 5. For those unaware, a PMIC does exactly what its name suggests. In mobile devices, that run on a battery, the PMICs controls the flow of power. Since mobile phones have multiple internal voltages and use an external device to charge, a PMIC assures the right flow of current by providing voltage regulation, voltage protection and charging efficiency.
The new SMB1396 and SMB1398 PMICs are claimed to provide maximum efficiency of above 98%. The company has added support for 1SnP and 2SnP batteries, wired and wireless charging input, dynamic operations based on the power source. They also offer scalability to accommodate the highest power levels from the power source with support for more than 20V input voltage operation.
Compatibility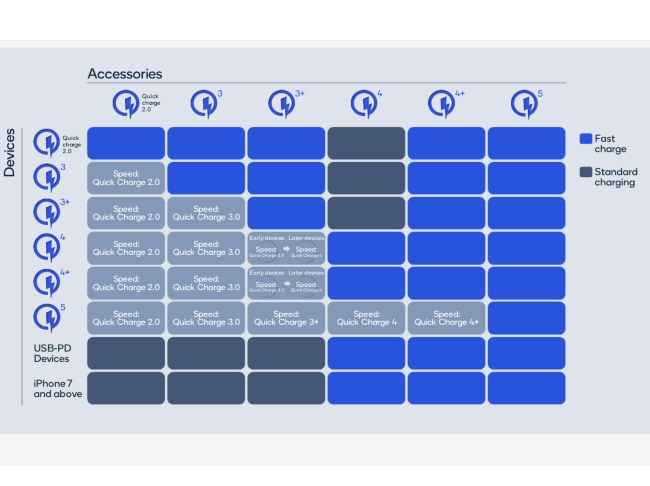 Quick Charge 5 supported accessories will be backwards compatible with all the previous generation Quick Charge versions except for the first. That includes QC 2.0, 3.0, 4, 4+ and existing smartphones powered by the Qualcomm Snapdragon chipsets. Despite the increase in power, the technology still maintains the same footprint as the 45W solution. Which means customers won't need to buy a separate accessory to charge a compatible device. It is optimized to support both USB-PD and Type-C technologies as well. Which makes it compatible with most current and upcoming mobile devices.