The final word seems to be in. Apple, the Cupertino based tech behemoth, will manufacture iPhones in India very soon. As per a release by the Karnataka Government, Apple will be 'making in India' out of a facility in Bengaluru. The release welcomes Apple's proposal to manufacture iPhones in India and to "commence initial manufacturing operations" in the state. News of Apple's India manufacturing plans was first heard of in December, post which the company held talks with many senior government officials to finalise the terms of its operations in India. It is not clear if Apple got the heavy tax exemption approvals it was seeking from the government, but relaxations were announced for those seeking to make in India, in the budget.
Back in January, Apple officials also held talks with officials from the departments of commerce, industrial policy and promotion (DIPP), revenue, environment and forest, electronics and information technology (DeITY) to seek incentives such as long-term duty exemptions.
As per the release, which was signed by Karnataka IT Minister, Priyank Kharge, Apple "will foster cutting edge technology ecosystem and supply chain development in the state, which are critical for India to compete globally." However, the release does not mention a timeline for the start of iPhone manufacturing in Bengaluru. Reports suggest Apple, along with Taiwanese OEM, Wistron, will begin manufacturing the devices starting June, 2017. The Apple-Wistron manufacturing facility will be based out of Bengaluru's industrial hub Peenya. However, sources told Reuters that no deal or MoU has been finalised between Apple and the state government till now. In fact, the state IT Minister went on to tweet about the development as well, almost confirming Apple's plans. The tweet was later deleted by the minister.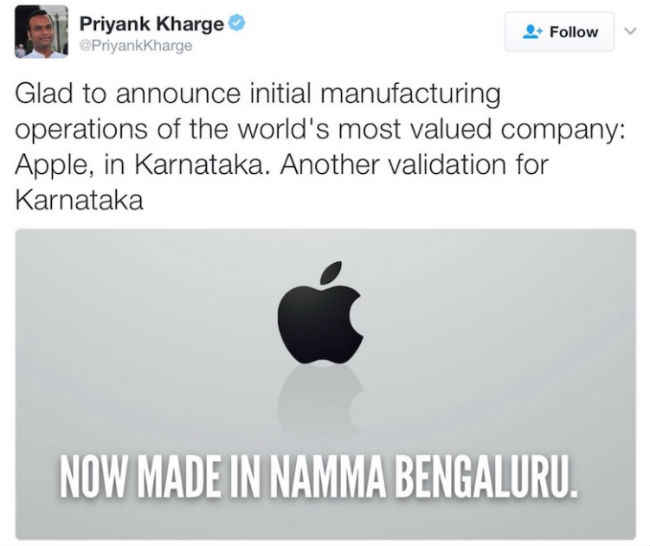 The release went on to describe how Karnataka's state officials met with seniour management from Apple including - Priya Balasubramaniam, VP, iPhone Operations, Dheeraj Chugh, Director, iPhone operations, and more. The government also said that it was looking to collaborate with Apple in other areas of innovation as well. This will be Apple's third global iPhone assembly unit, putting India on the radar of the world's most iconic and valuable company.
Apple's entry to India as a manufacturer should be a signal to other smartphone makers looking to dip their toes in the Indian manufacturing space. It could also prompt other brands like Xiaomi and the world's third-largest smartphone maker Huawei, to ask for additional incentives from the government for their existing assembly lines in India. Apple is expected to start assembling iPhones in the country initially, with plans to manufacture the device end-to-end in the near future.