Even as telecom operators are looking to raise call and data tariffs to improve margins, Aircel has introduced a new plan called 'Surf to talk free', which offers free calling with data usage. The new plan is aimed at expanding the operators' market share and increasing revenues. Aircel's new plan, however, is unlikely to prompt other operators to come up with similar plans or discounted plans.
Aircel is offering 10 minutes of local calls free on consumption of 1MB or more of data. Users can avail the free calling everyday. Aircel's chief marketing officer Anupam Vasudevan says the subscribers will be benefited from the scheme. "It is not discounting, it is actually giving the customer extra," Vasudevan is quoted as saying, while explaining reason behind aiming higher revenue rather than the per second profitability.
Aircel's new plan may look attractive, but there's a catch. As The Mobile Indian points out Aircel is offering free calling when users are using data at the base rate and is not part of any pack.
Also, the base rate charged by Aircel is 10 paisa per 10KB for 2G and 3G data, therefore subscribers have to shell out Rs. 10 on consuming 1MB of data. To know more about Aircel's 'Surf to Talk free' plan, click here.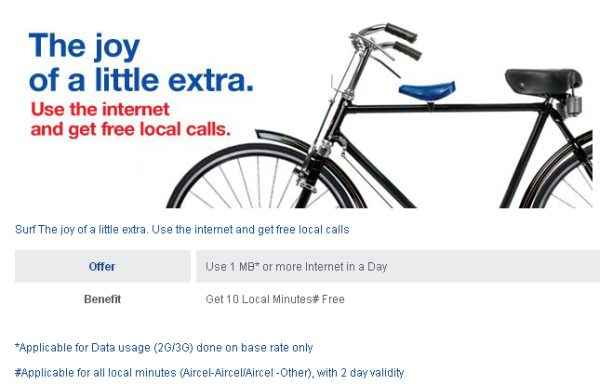 Economic Times in its report says the rivals don't consider Aircel's plan a potential threat. The report quotes a competitor as saying the GSM technology network, deployed by the most operators in the country, is not compatible with data consumption. Companies make Rs. 0.35-0.50 per minute for voice whereas operators make Rs 0.06-0.07 from the similar capacity consumption at current data rates.
According to Gartner's research director, Kamlesh Bhatia, such plan on LTE or 4G would be more "disruptive", as the main usage of the network is data. "A plan like this will affect call rates across the industry if rolled out by an LTE player because you (existing GSM players) will lose a chunk of high telephone service users."
Reliance Industries (RIL) is planning to provide a free voice connection along with a data connection on the LTE network, but the company is yet to officially announce 4G in the country. "The only thing to worry about is RIL saying that it will reduce data prices to a sixth, but even they would know that cannot lead them to profitability," a competitor is quoted as saying.
Aircel's new plan comes at a time when other operators are raising voice and data tariffs in a bid to cover inflating costs. Recently, telecom major Airtel and Idea Cellular raised their tariffs. Aircel, on the other hand, has been going against the stream. The operator recently launched a new tariff plan that makes roaming across voice, SMS and data services free.
Called the 'One Nation, One Rate' plan, subscribers will pay 1 paisa per second for both STD and local calls in their home circles, as well as on roaming. For local and STD SMSes, the operator will charge Re 1. Incoming will be free. Read more about Aircel's One Nation, One Rate plan here.
What do you think Aircel's free calling with data usage plan? Let us know in the comments section below: