Intel is showcasing its prototype gaming laptop with dual-displays where the companion display can be used to stream games, show chat, and more.
Intel announced its 10th Generation of Core processors at Computex 2019 but the company's new concept gaming laptop turned most heads. Intel is showcasing its Honeycomb Glacier concept gaming laptop that aimed at both gamers and creators and it sports an interesting form factor, to say the least. While we have already come across dual-screen laptops from Asus, Intel is taking the feature one step further with its concept machine that alongside a 15.6-inch main display, features a 12.3-inch companion screen that sits below the main display and above the keyboard, similar to the Asus ZenBook Pro Duo (first-impressions).
Adding a second display was not enough as the Intel prototype laptop has another trick up its sleeve. While the laptop folds out like any other standard device, the primary display can be tilted up so that the companion display is pulled with it. Like other dual-screen laptops we have come across so far, the purpose of Honeycomb Glacier is delivering more screen real estate to game and create on a laptop. While gaming, the companion screen can display maps, status and more information, without needing to switch applications on the main screen.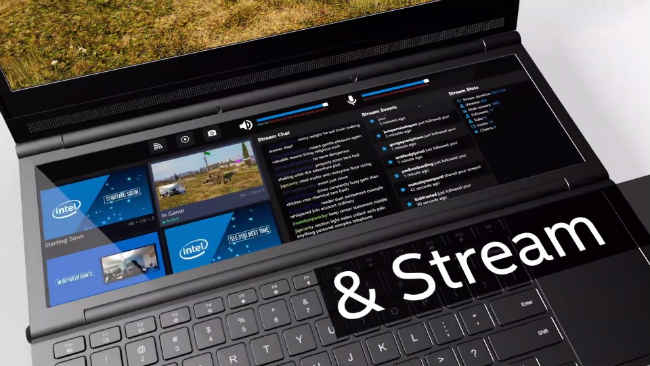 Another interesting application demoed by Intel is using the device's second screen to stream simultaneously while gaming. This enables a user to interact with their audience while gaming, without being completely distracted from the gameplay. The laptop showcased by Intel also features Tobii eye tracking that assesses when the user is looking at the main display or the companion display and scales elements being shown accordingly.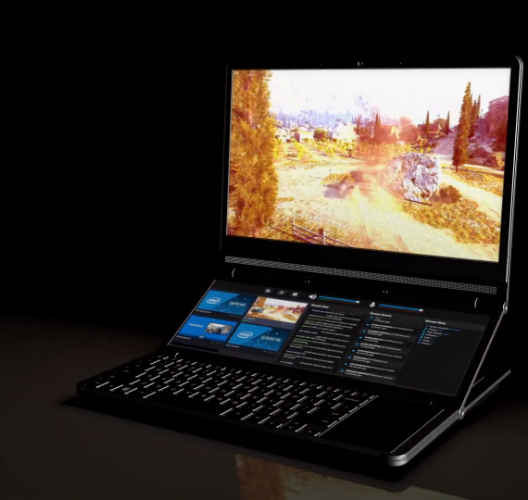 While currently a concept, Intel is working with OEMs to making the device an actuality. The companion display systems can be expected to show up in future laptops, with 9th Gen Intel Core mobile processors. Asus ZenBook Pro Duo series with ScreenPad Plus is the first device to feature a companion display.