The listing hints that a MacBook Pro with model number 'MacBookPro15,3' could be in the works. It is listed with the Intel Core i7-8559U processor, which has a 28W TDP and was announced back in Q2 this year.
Apple could soon unveil a revamped version of its MacBook Pro laptop. An Apple MacBook Pro has been spotted online on Geekbench by 9to5Mac and the listing hints at some major hardware changes. As per the listing, the 'MacBook Pro 15,2' could be equipped with an Intel Core i7-8559U Coffee Lake CPU, which is listed with a 28W TDP. The quad-core CPU has a 2.7GHz base frequency and with turbo boost, it can go up to 4.5GHz. Additionally, the laptop is listed running on the macOS 10.13.6, which is an incremental High Sierra update and is currently available for developers. As the device is being tested on High Sierra, it is expected to be released earlier than the macOS Mojave public release, which is later in 2018.
The laptop managed to score 4448 in single-core test and 16607 in multi-core performance. The Intel chip features 8MB of L3 cache and comes with Iris Plus 655 integrated graphics. The CPU was launched in Q2 2018 and the new MacBook Pro could be one of the first laptops to come equipped with it. The listing also tips at 16GB LPDDR3 memory stick on the device, which is running at 2133MHz. Additionally, the device could be an update to the 13-inch MacBook Pro that was launched last year. However, as Geekbench listings can be easily forged, we suggest that you take this information with a pinch of salt.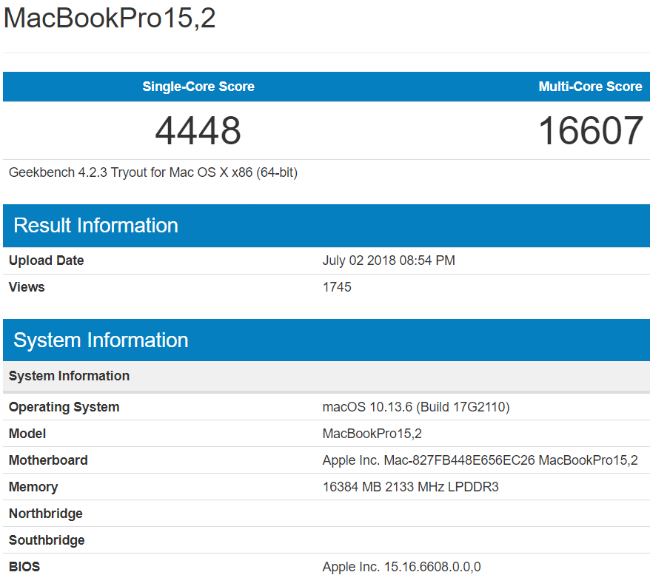 Another MacBook Pro was spotted on Geekbench last month. The listing revealed that the laptop comes with 32GB RAM and is powered by Intel Core i7-8750H hexa-core processor. The device was running on macOS 10.13.4 and it scored 4902 in single-core and 22316 in multi-core tests.
Apple hosted its 2018 World Wide Developers Conference (WWDC) last month and made a slew of announcements. The announcements included the new iOS 12, macOS Mojave and more, but the company was also expected to announce refreshed MacBook Air or the MacBook Pro laptops, as the latest ones are now dated in terms of hardware. However, this did not happen and the latest rumours are that the new laptops will be launched at Apple's Special Event in September.