At a time when authorities in India are working to plug all data leak points to safeguard the citizens of the country, Xiaomi has decided to migrate all data of Indian users to its cloud infrastructure in the country. In a blog post, Manu Jain, Vice President, Xiaomi and Managing Director, Xiaomi India, said that all the data will be migrated by end of this year and will be end-to-end encrypted.
"We are migrating our cloud servers to India for local storage. The data migration would cover all Indian user data across Xiaomi e-commerce platform (www.mi.com/in/), Mi Community (in.c.mi.com), Mi Cloud, MIUI (Xiaomi Market, feed, Mi Video, advertising, Mi Messaging, push notifications, etc) and Mi TV," the executive said in the post. The data will be migrated to company's secure Amazon Web Services (AWS) and Microsoft Azure infrastructure in India and all the existing data would be migrated by the end of 2018. "All new Indian user data since 1st July is already being stored in local servers and all existing user data on mi.com/in/ will be fully migrated to servers in India by mid-September 2018," Jain said.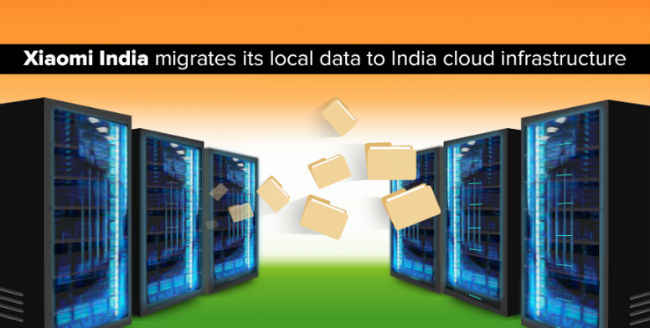 Until now, Xiaomi used to store all Indian user data used in mi.com/in/, in.c.mi.com, Mi Cloud, MIUI (Xiaomi Market, feed, Mi Video, advertising, Mi Messaging, push notifications, etc) and Mi TV in AWS servers across Singapore and the US. Xiaomi says that with the migration of local user data to India, users will be able get a boost in access speeds. "It's something our teams have been working tirelessly on and I am glad we have been able to turn this around for our India users. With the data stored locally and encrypted end to end, users will be able to enjoy up to four times higher access speed when using Xiaomi's services," Jain noted
The announcement comes on the heels of the recommendation draft that the Telecom Regulatory Authority of India (TRAI) issued to safeguard Indian citizens and their data when they go online. The recommendations on 'Privacy, Security and Ownership of Data in the Telecom Sector' are applicable to apps, browsers, operating systems, and handset makers to bolster the existing framework for the protection of users' personal data. You can read about the recommendations here.