In the current internet environment, the line between content publishers and content creators is getting blurrier. With websites like Wikipedia, everyone is (or at least can be) both a publisher and a reader. What is the distinction really? Everyone has some knowledge to add to the world, and while by sharing such knowledge the world gets perhaps a little bit wiser, nothing is lost by "consuming" this knowledge. Thus the knowledge grows, and people got access to more information that was possible in any medium ever before.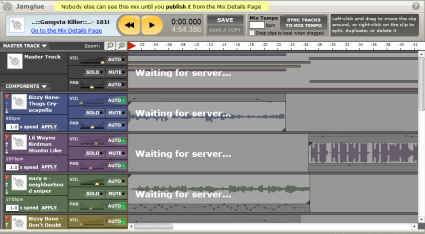 Jamglue is an online media sharing website which provides you with its own tools to create and edit music content. It takes the concept of social networking and applies it to Music to create what it calls "Remixing for the Masses".
The concept of Jamglue is simple, to allow Fans to use the ready made works of popular artists to create and showcase their own remixes, and for Artists to connect with a community of music lovers which can not only listen to their music, but also "participate in their music," blurring the distinction between creators and consumers.
Blurring the fan line
Jamglue refers to itself in its About page as "Blurring the line between Artist and Fan". An apt metaphor for the nature of the internet today, and indeed it does so, for it relies on fans themselves to get artistic and create and share remixes of their favorite songs.
For many music lovers, creating new music is something that is way beyond their turf. However Jamglue gives you the opportunity to instead work off other people's music and create remixes instead of starting from scratch.
Jamglue doesn't just allow you to share music though, you can share your remixes themselves. Meaning that it is not the final product that you share, but the composition itself, so that people can see exactly how you created the remix and can built on it.
Jamglue is a great place for artists to promote their music too. The site already has over million users who are "itching to remix" any music that comes by them. By engaging people in working with their music instead of just listening to it, artists can build a better relationship with their fans. Jamglue also hosts remix competitions that artists can further use to promote their music.
To protect the work of the users of its site, it also offers users with a simple tool to help select licensing schemes for the music they create. The tool takes all the complications out of selecting a license for your creations by making sure that any license you select is compatible with the licenses of the tracks in your composition, so you get mixing without being distracted by licensing terms.
Mixing it up
What we have till now is just about any music sharing website, but with a remixing angle thrown in. So what makes it seem like a desktop experience? In one word, the remixer.
Jamglue includes its own remixing software which runs straight from the website and allows you to create remixes in your browser itself!
The remixer on the website offers quite a lot of features traditionally supported by only desktop applications. The flexibility it provides while creating your own compositions is quite impressive. Like any audio editing application, it supports:
| | |
| --- | --- |
| Multiple tracks | |
| Adding multiple mixes while maintaining hierarchy | |
| Modifying audio speed | |
| Individual track volume and pan control | |
| | |
| Setting volume point and pan points to vary volume and pan over time | |
| Muting each individual track / all tracks except selected track | |
| Synchronizing all music tracks speed to match your mix tempo | |
| Zoom in/ out for finer grained control | |
| Controlling volume and pan variations for master track | |
While these features might be the minimum found in any self respecting music mixing software, to have access to all this straight though your browser is impressive.
The remixer is a Flash application, and the website in its entirety requires only that the users browser have the Flash plugin installed and support JavaScript. A safe bet for anyone using a fairly modern browser. Furthermore, it requires the Flash 8 plugin, and with Flash 9 penetration on the higher end of 90%, this website really brings remixing to the masses.
For the masses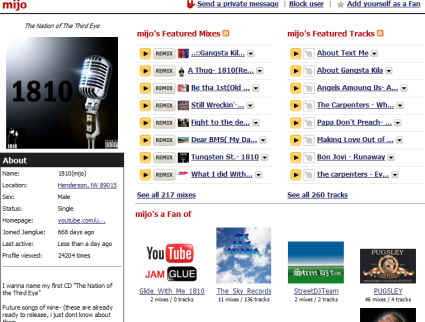 Bringing services the masses is something we see most web applications concentrate on. While desktop application try to make more money off a few buyers, these services make money while charging nothing from millions of users.
Besides the financial implications, few web applications can hold a candle to their desktop counterparts when it comes to features and performance. However web applications take give less power, but to more people, making the resultant capable of much more than could be accomplished from traditional desktop applications.
When it comes to Jamglue, the social features that you get are comparable to any other social networking website, except being centered around music. Instead of making friends you can become a fan, or have someone as your fan. Instead of sharing pictures from your vacation in Hawaii, you can share the music you made while jamming with your friends. While you may get significantly more features in a desktop environment, it is the collaborative nature of this website which makes it shine above them.
The Jamglue Website: http://www.jamglue.com/
About Jamglue: http://www.jamglue.com/about