Sony may be planning to discontinue making smartphones in its 'Premium Standard' segment. According to the XperiaBlog, the devices which fall into the segment include the Xperia X and the Xperia X Compact smartphones, which were launched last year. As per the report, Sony made the announcement at its 2017 Investor Day and noted that the company would only focus on flagship and mid-range models in the future. These include devices like the Xperia XZ Premium and the Xperia XA1. It also reportedly said that it only wants to focus on markets like Japan, East Asia, APAC, Middle East and Europe, where it can leverage the strength of its brand.
According to a slide posted by XperiaBlog, devices in the Premium Standard segment hit 85 percent of its intended sales targets for the year in Japan. Outside of its home country however, the sales figures fell to 31 percent. Globally, the company reached 43 percent of its intended sales target.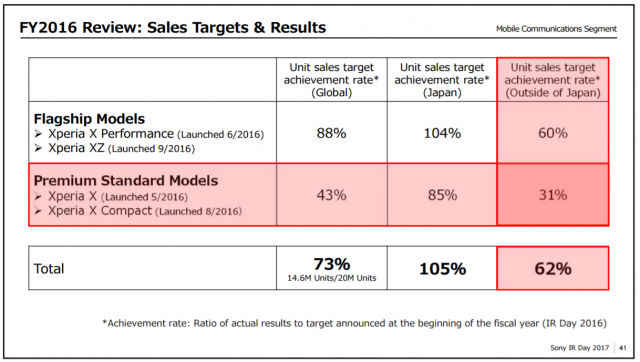 The Sony Xperia X was launched in India in May last year for Rs. 48,990. The device offers a 5-inch Full HD display and is powered by Qualcomm's Snapdragon 650 processor with 3GB of RAM. The device offers a 23MP primary camera and a 13MP secondary camera.