Last Month, Microsoft had announced Skype Bots for Android and iOS at the recently held Build 2016 conference in San Francisco. The Cortana and Skype demonstration showed how Cortana, your personal digital assistant, can help you get things done directly in your Skype chats. For example, Cortana will help you find information, manage your calendar and connect to other Bots that are relevant to you, all without leaving Skype.

Now, Skype has announced the introduction of these bots for Mac and Web. In a recent blogpost, Team Skype wrote, "We've been working hard to bring this new experience to more users, and today we're pleased to release preview Skype Bots on two additional platforms: Mac and Web."
To get started on Mac, tap on the "Contacts" from the menu and select "Add Bot…." to search for or view a list of available Bots. If you're using Skype for Web, select "Discover Bots" on the left toolbar to see a list of available Bots.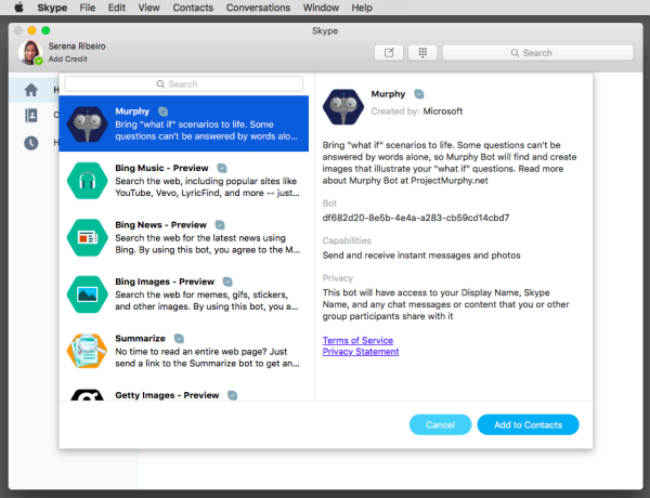 Skype Bots for Mac
Skype has also been introducing previews of new Skype Bots over the past couple of weeks. These include:
Murphy, a Bot to find and create images for when questions can't be answered by words alone
Summarize, a Bot designed to give an overview of a web page if you don't have time to read the whole thing
Preview Bots are available in the latest versions of Skype for Windows Desktop,Android, iPhone, iPad, Mac, and Web. These preview bots are currently available in Australia, Canada, England, Ireland, India, New Zealand, Singapore, and the US.