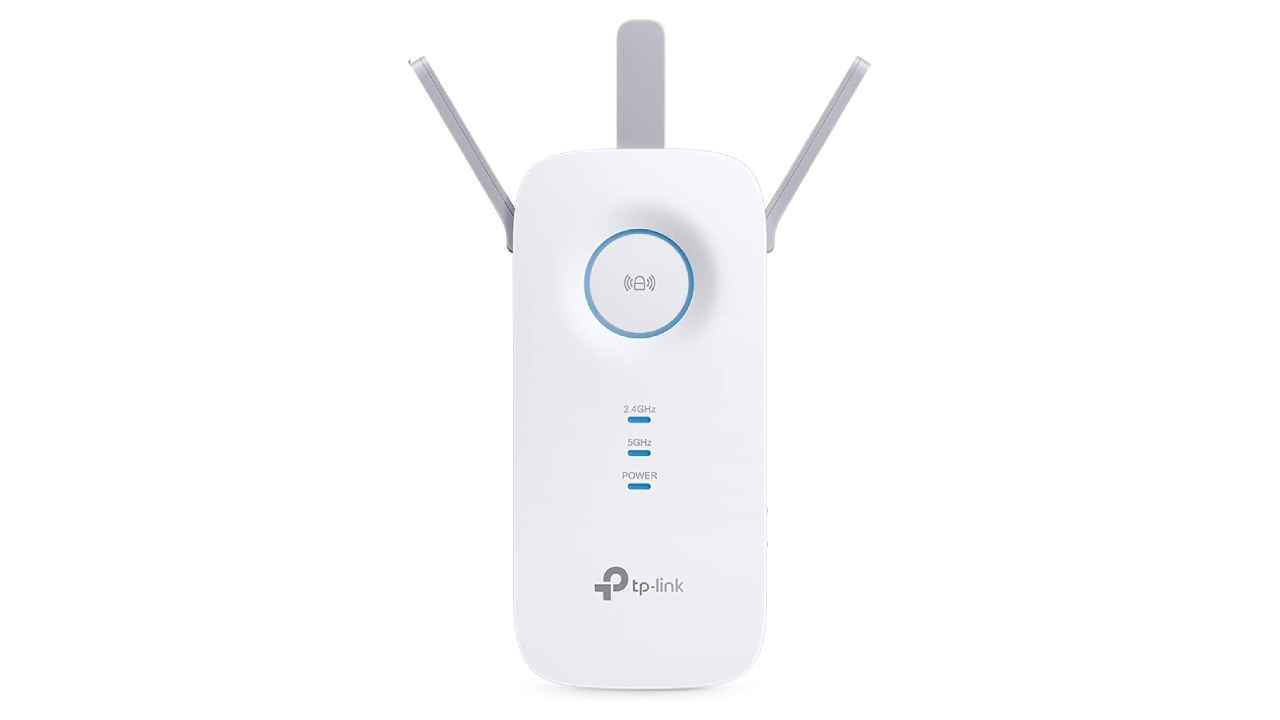 Large homes and offices require powerful internet routers and range extenders to ensure everyone has access to quick and stable Wi-Fi connections. Often, the aspect that is overlooked is range. While some routers offer large coverage, they can cost a pretty penny. Opting for a reasonably priced router and expanding upon it is a good idea. This can be achieved with a range extender or a repeater. They act as hosts to the Wi-Fi network and carry the data forward, enhancing the coverage from a single router. Using a range extender with high-speed internet is recommended. So, here are some range extenders on Amazon.
TP-Link AC1750 Universal Dual Band Range Extender
Here's a range extender with dual-band coverage, making it the ideal choice. It comes with three antennas for maximum coverage and ample download and upload speeds. The dual-band coverage is supported, and it lets you link up devices with 5GHz connections or 2.4GHz networks. This also means it can handle more connected devices. It has a speed cap of 1750Mbps (Megabits per second) and can go as fast as 1300Mbps on 5G networks. This makes it pretty good for gaming as well. If you want more stable communication with your main router, you can hook up an ethernet cable. Connection is fairly simple, and the LED lights provide ample information.
Netgear WiFi Booster Range Extender
If you're looking for a range booster that can link up to 20 devices and offer fast network speeds, this is a good pick. It offers a maximum speed of up to 1200Mbps in ideal conditions. Netgear claims it uses both bands to provide a high-speed connection that's also stale. There are two antennas at the side that transmit the network signal, and it has universal compatibility with all kinds of wireless devices and routers. It is quite easy to set up – you need to download the mobile app, which is fairly self-explanatory. You can also plug in a LAN cable for better connectivity.
D-Link Wireless Range Extender
This is a compact and efficient wireless range extender, which also has good performance. It has foldable antennas, which make for versatile wireless networks. The front has a set of LED lights that let you know the network connection status and the signal strength – pretty convenient. The WPS button is also at the front, making for easy connections with network sources. It is recommended to keep it in the same room where you plan to use the network, as it has a maximum speed of 300Mbps, which can be stabilised with an ethernet cable. It is compatible with laptops, phones, consoles, TVs, printers, and more.
TP-Link AX1500 Wi-Fi 6 Range Extender
Get a reliable and fast internet connection through this range extender. It offers a whole mesh system when connected to your existing network and uses dual-band networks. This lets it provide fast internet over a 5GHz network. It has a gigabit ethernet port which enables you to use it as an Access Point. It can offer speeds up to 1500 Mbps, which is quite impressive. Since it has a universal connection, linking it to your existing network is quite simple and can be done through a mobile app or the website.