At a recent event on Feb 28, Hyperloop One, the company behind the hyperloop effort, revealed their 'Vision for India', in which they made a strong pitch for the Indian market to adopt the Hyperloop technology to make transportation across the country faster than ever. As part of the event, multiple routes were proposed by Hyperloop One and the teams participating in the Hyperloop One Global Challenge. And now, Hyperloop wants to know which routes you want to see in the project.
Among the options are some routes between Bengaluru and Chennai, Bengaluru and Thiruvananthapuram, Delhi-Mumbai, Mumbai-Bengaluru-Chennai and Mumbai-Kolkata.
Those of you from Mumbai who are rejoicing at the thought of so many options, as you can see, right now the popularity lies with the Bengaluru to Chennai route revealed at the event. Maybe you can blame all the techies who want to have a comfortable Dosa breakfast and report to their offices in under half hour!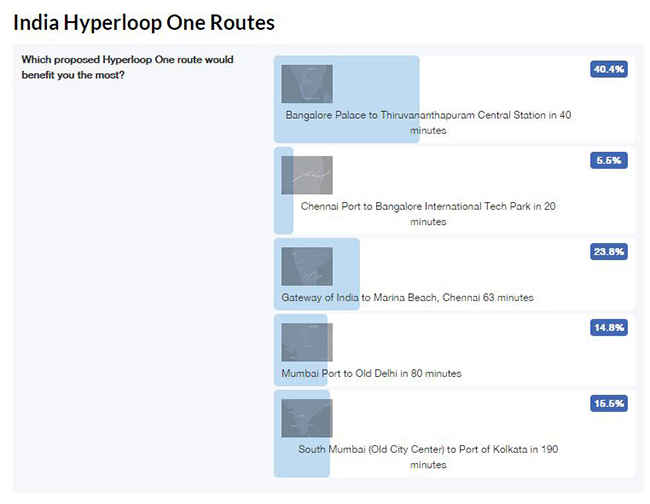 Jokes apart, the Mumbai to Kolkata route is an ambitious suggestion and will be connecting four major cities in the longest travel time (among the routes) of 190 minutes. If this route does see the light of the day, it won't be surprising if this sees a huge amount of traffic, since the Kolkata-Hyderabad route definitely suffers from a lack of options when it comes to fast trains.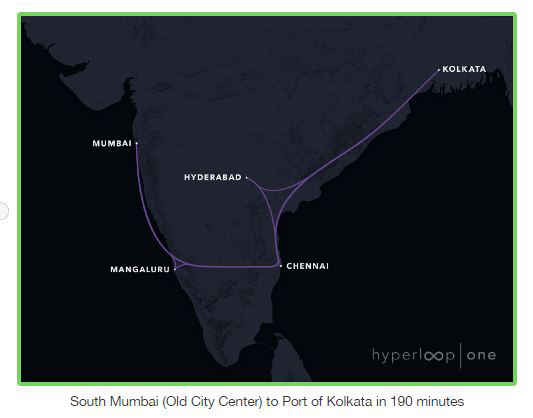 Statistically speaking, according to this Indian Railways document, the North region generates the most number of passengers (at least 50% more than any other region) if we go by passengers originating on home line. And out of the suggested routes, only the Mumbai-Delhi route services that region partially. Perhaps a few more suggestions are due. What do you think of the route options available? Which one is your favorite? Or do you have a completely different idea? Let us know in the comments below and don't forget to take the poll here.