Highlights:
Microsoft bars employees from indulging in April Fools' Day.
An executive said that pranks attract negative feedback more than the positive ones.


It is that time of the year when people use their best ideas (or in some cases, pretty bad ones) to prank others in every possible way. The April Fools' tradition is followed by many people across the world, including those who work for technology companies like Google and Microsoft. But this year, Microsoft has taken a step back and has instructed employees to avoid making any jokes that could attract more flak than positive feedback.
In a memo, Microsoft's Marketing Chief Chris Capossela (obtained by The Verge), has asked employees to ensure that people are aware about company's decision on the April Fools' Day activities. "It's that time of year when tech companies try to show their creativity with April Fools' Day stunts. Sometimes the outcomes are amusing and sometimes they're not. Either way, data tells us these stunts have limited positive impact and can actually result in unwanted news cycles," he wrote in the memo
"Considering the headwinds the tech industry is facing today, I'm asking all teams at Microsoft to not do any public-facing April Fools' Day stunts. I appreciate that people may have devoted time and resources to these activities, but I believe we have more to lose than gain by attempting to be funny on this one day. Please forward to your teams and internal partners to ensure people are aware of the ask to stand down on external April Fools' Day activities," he added.
The executive is true about the headwinds as well as about unwanted news cycles. For example, Google's "Mic Drop" April Fools' Day prank didn't come out as it was supposed to and backfired big time so much so that the company had to apologise. In 2016, the search giant announced that it launched a new feature called "mic drop", which, as the name suggests, could be used to have a final say in a conversation.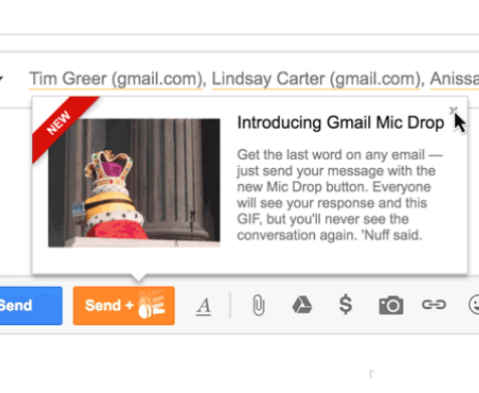 However, it looked like Google pranked itself and the feedback was more negative than positive. "Again, sorry. We love April Fools jokes at Google, and we regret that this joke missed the mark and disappointed you," Google had said. Last year, Xiaomi pulled an April Fools' Day joke saying that the company would launch Mi A1 with six cameras. A year later, we can say that OEMs could soon make that joke a reality because Nokia has already launched a phone with five rear cameras.
Meanwhile, Razer was successful in fooling people about a drink that was claimed to boost gamers' ability to play games. The manufacturer, known for its gaming hardware and smartphone, announced Project Venom v2, a solution that boosts gamers' gaming abilities and marketed it as an improved variant of 2010's Project Venom. We at Digit also 'launched' an ultra-specced smartphone called the Votafone with specifications like Dual 64 bit Quad Core processors, Dual 5.5 inch AMOLED screen, Dual 21MP 2K cameras, and a 7200 mAH battery made from the revolutionary material Graphene.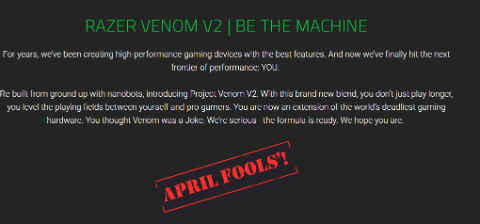 Even though Microsoft has banned the idea of not pranking people on the first day of April, it doesn't mean that you ditch April Fools' Day. Apparently it's a precautionary step that the Windows-maker has taken to avoid "unwanted news cycles," but given the participation by several tech bigwigs, joking doesn't seem to be a bad idea after all.
Related Read:
Reliance addresses everyone's battery woes on April Fool's day with Jio Juice