OnePlus TV 32Y1 - Smarter TV
Android TV with superior craftsmanship and elegant design.
Click here to know more
Advertisements

In its third edition since its inception three years back, LG's Tech Show 2016 at Mumbai opened its doors for trade partners and consumers to visit and experience LG's newest lineup of gadgets launched this year at the CES 2016. Hosted only at Delhi till the previous year, LG's tech show will be expanding to 50 cities this year in order to reach more end-consumers. At the inaugural event in Mumbai, on display were the LG's 4K OLED TVs from its signature series, the X-Boom cube speakers, the recently launched LG K7 and K10 smartphones along with various signature series home appliances, amongst which its Knock-on Door-in-Door refrigerator received maximum attention.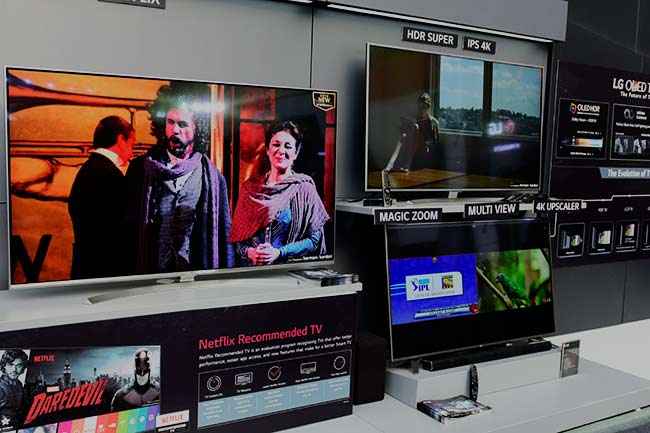 Key Products on display at the LG Tech Show 2016 Mumbai:
Latest LG 4K OLED TVs
LG's 'Signature Series' 4K OLED TVs are beautifully designed and come with mesmerizing display and Dolby Vision. The all new G6 and E6 series which is a feature loaded series for the UHD OLED TV were also on display at the Tech Show along with the flagship G6 SIGNATURE series. All of the newly launched TVs come with webOS 3.0 along with its smart remote which acts like a pointing device to control the TV. These TVs also feature Super HDR, Multi-View, Magic zoom along Netflix and YouTube integration for quick play.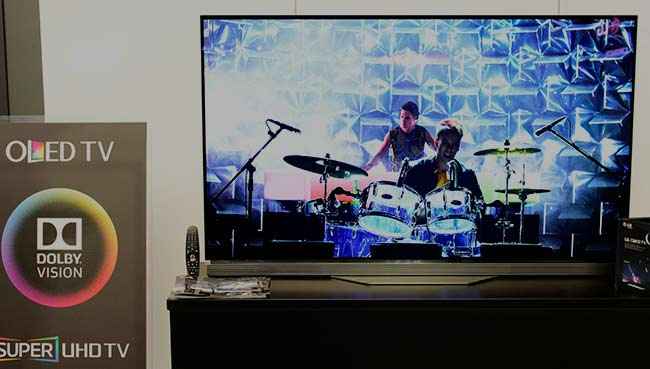 LG K7 and K10 smartphones
At the Tech Show, LG also displayed its LG K7 and K10, its contribution to the Make in India initiative. Along with the assembly, LG will also be designing as well as manufacturing these phones in India. Both the phones come with a 2.5D rounded glass, bending onto the outer bezel and feature an In-cell touch display. The phones come with LG's Pebble design, giving it a premium look. On the back, the K10 features a classic weaving pattern making it scratch proof and giving it a stylish rugged back. Both phones are powered by Qualcomm Snapdragon processor K7-210 and K10-410 and are 4G enabled. The phones are capable of VoWiFi and VoLTE services, making it perfect for VOIP services according to LG. The LG K7 comes with 5MP front as well as rear cameras whereas the K10 has a 13MP rear and a 5MP front-facing camera along with gesture controls. The K7 is priced at Rs.9,500 and the K10 will be available for Rs.13,500.
Home appliances:

Knock-on Door-in-Door Refrigerator: Launched at CES 2016, LG's Knock-on Door-in-Door Refrigerator lights up and becomes transparent when you knock on the door, allowing you to check the contents of the refrigerator without opening the door. The Door-in-Door feature minimizes loss of cold air up to 47 percent, claims LG. Following an asymmetrical design, this refrigerator has a WiFi Eclipse display and comes with LUMI lighting on the shelves.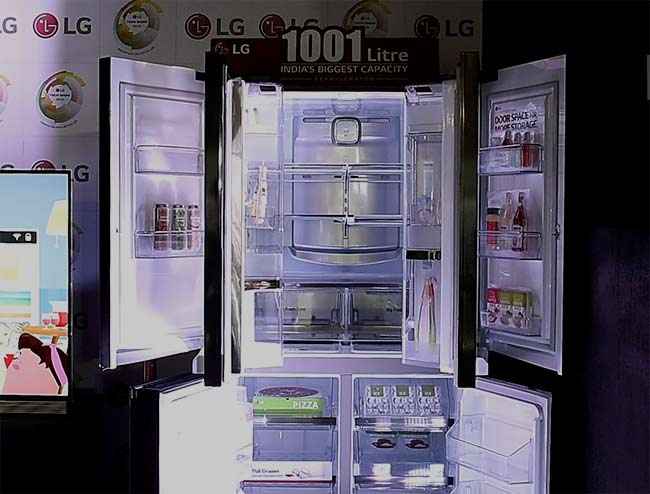 Air Purifier: LG's Air Purifier series claim to clean the air in front of your eyes. It is designed to make the air cleaning process to be a visual experience with its transparent panel along with an indicator that uses four different colors of light to signify the concentration of super-fine dust particles. Equipped with an Aqua-Cyclone feature, this air purifier harnesses the power of water to filter out harmful chemicals and contaminants while quickly bringing humidity in the room to comfortable levels. The Air purifier is equipped with a semi-permanent filter system, allowing consumers to remove, wash and reuse the filters for up to 10 years, claims LG.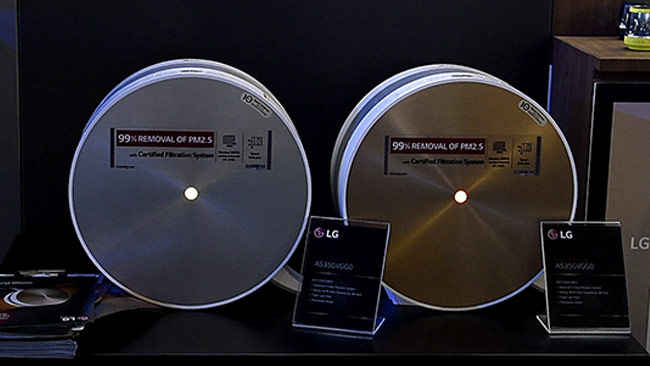 Washing Machines: LG's Twin Wash washing machine is the newest addition to LG's laundry solutions. This Washing Machine enables you to wash two separate loads at the same time. The main front load washer in the Twin Wash washing machine has a capacity of 21 Kg, the biggest capacity available in the Indian market till now. Along with it is a small 3.5 kg mini washer increasing its total capacity to 24.5 kg. The machine claims to be a time, energy, water and space saver with innovative Twin Wash technology. Its ergonomic design gives the washing machine a tilt at a six-degree angle making it more accessible along with adding a premium feel to it. LG has designed this machine with their flagship SmartThinQ technology and it has inbuilt Wi-Fi system and NFC enabled app control to keep a check and adjust wash cycles and temperature using a smartphone.
Also on display was LG's smart 12KG front load washing machine, another addition to LG's laundry series. Along with the 24-inch main front load, the machine provides special care for various types of fabric with its specific cycles and ensures minimal fabric damage along with reducing energy consumption.
The show will be open for consumers as well as trade partners from 28th April to 1st May at High Street Phoenix, Lower Parel, Mumbai from 4.00P.M. onwards.