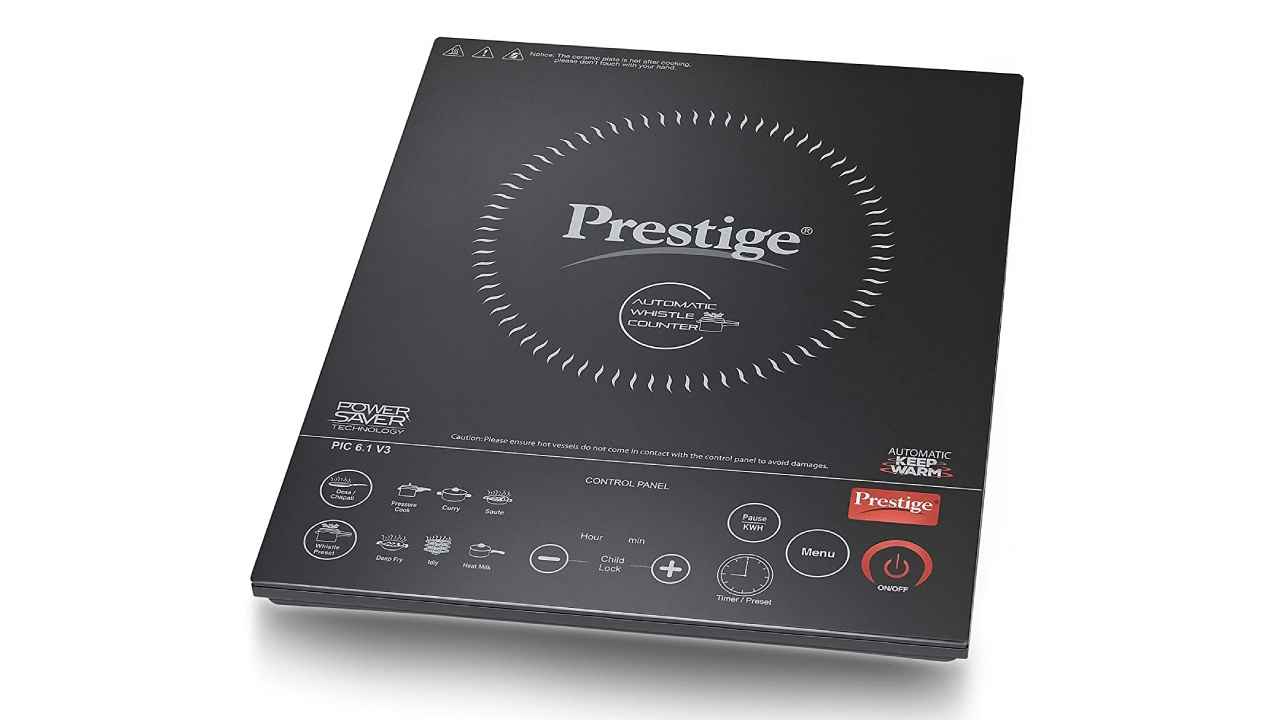 Induction cooktops ensure that the time taken to complete your cooking is reduced significantly. These are smart, efficient home solutions that work wonders. Manufacturers continue to augment the features of induction cooktops. One such feature is the keep-warm function that helps retain the temperature of cooked food for long durations while consuming very little energy. Check this list of Induction cooktops with the keep warm function available on Amazon, which might be very handy to use.
Havells Insta Cook ET 1900-Watt Induction Cooktop
Havells Insta Cook ET 1900-Watt Induction Cooktop has easy touch operations and allows for both fixed and variable cooking functions. It has a digital LED display for easy operation, and the auto-pan detection is a good function that the induction cooktop has. It also has an auto power-off function. The product also has a child lock for extra safety. This 3.56 kilograms induction cooktop is eco-friendly, safe, and low maintenance.
Prestige Induction Cooktop
Prestige Induction Cooktop allows the user to prepare authentic Indian food with just the help of a number of buttons. The product is equipped with an anti-magnetic wall that blocks surplus magnetic radiation from entering a healthy meal. It is also equipped with automatic power and temperature adjustment for different kinds of foods. The automatic voltage regulator ensures that voltage variance does not reduce the life of the product. The flat and smooth surface allows for hassle-free cleaning, and energy wastage from this product is minimal, making it environment friendly. The cooktop is portable and easy to maintain.
Havells Insta Cook ET-X Induction Cooktop
Equipped with simple touch operations, the Havells Insta Cook ET-X Induction Cooktop enables the user to choose from a myriad list of options. The different cooking modes, auto-pan detection, power-off and switch-off features make it easy and faster to cook the dish of your choice. The cooktop features variable temperature and timer setting options. The LED display allows for an easy selection of menus for the cooktop. It also has a sensitive touch panel. The ceramic construction makes the cooktop durable and ensures even heat distribution. The product is energy efficient.
KENT Induction Cooktop
With 8 pre-set cooking options, the KENT Induction Cooktop is more efficient than traditional gas stoves. The LED display allows for the selection of menus. The glass cooktop gives a stylish look to the kitchen and makes it easy for the user to clean their appliance. The feather touch buttons not only ensure ease of operation but also prevent the entry of water into the appliance. The product comes with overheating protection and a function that allows it to simply keep your food warm. The stainless steel frame enhances the life of the product. One can make curries, soups, fried foods and the like with just a button click.