Highlights:
Google is shutting down Inbox by Gmail.
Users have started getting notifications prompting them to switch to new Gmail app.
Google is also pulling the plug on Google+ on April 2
Google has been on an overhaul spree for quite some time now and the revamping has seen the launch of new themes, apps and features as well as the closure of some redundant and less used services. The latest app to face the axe is the Inbox by Gmail and the Mountain View, California-based company is pulling the plug on the service on April 2. This is the same date that Google has set to shut the Google+ service.
Those who are still using the Inbox by Gmail service have started to get alerts. "This app will be going away in 15 days. You can find your favorite inbox features in the Gmail app. Your messages are already waiting for you," the notification, which started coming on March 18, reads. Google had earlier said that it wants to take a more focused approach that will help the company bring "the best email experience to everyone."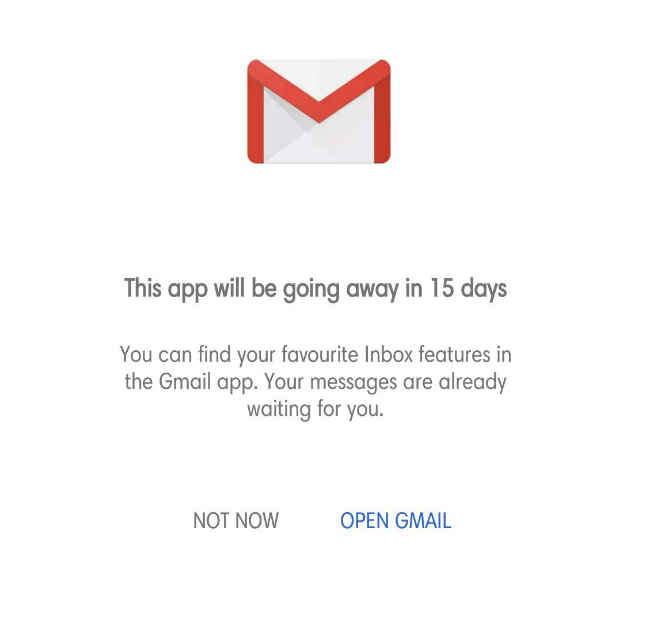 The development will now force the ardent Inbox by Gmail supporters to switch to the new way to view their mails. The latest Gmail app comes with features like Snooze, Connected Tasks Lists, Google Keep integration, among others that were also found in the original Inbox app launched in 2014. Last year, the company also rolled out a Smart Compose feature that uses Artificial Intelligence (AI) and Machine Learning (ML) to help users compose an email.
Interestingly, the Inbox by Gmail shutdown date falls on the same date that Google has set for the closure of the Google+ platform. The company will shut down all Google+ accounts and pages and it will begin deleting content from consumer Google+ accounts on April 2. Photos and videos from Google+ in users' album archive and Google+ pages will also be deleted. However, those who have backed up photos and videos in Google Photos can access them anytime.
Related Read:
Google Pixel 3a, Pixel 3a XL names, specs confirmed in new leak