ICICI Bank had launched the iPal chatbot in February 2017 on its website as well as the mobile app. According to ICICI, In a span of eight months, the bot has addressed six million queries from 3.1 million customers with nearly 90% accuracy. If you're an ICICI customer, you can access the chatbot not only on the mobile banking app iMobile and the website but also on Pockets, ICICI's digital bank offering.
The chatbot can deal with simple queries pretty well. For instance, asking it your account balance will give you prompt results. Additionally, it can also handle actual financial transactions like sending money, paying bills, mobile recharges. But one of the most helpful use cases of the chatbot is actually dealing with FAQs. Typically, you have to dial into a banking call centre to get a banking-related task done, or even to figure out how it is to be done. The chatbot takes the waiting out of that process and answers your query immediately, as well as providing you direct links to the correct sections wherever applicable.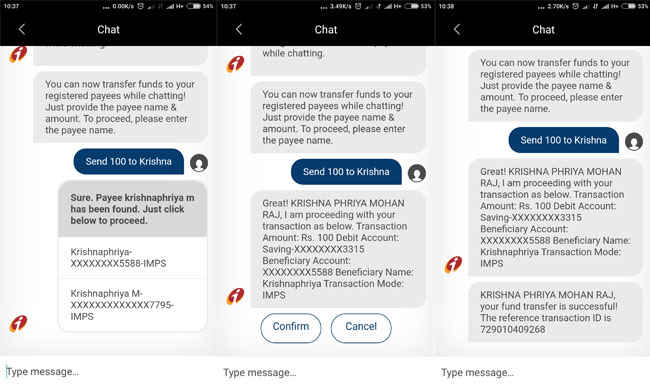 A typical transaction flow with the chatbot
Currently, the engine that powers the iPal chatbot resides on the server side, with the usual iMobile and net banking security measures in play. There are many new avenues that ICICI Bank aims to explore with this chatbot. For instance, support for vernacular languages is also on the way, according to Mr B Madhivanan, Chief Technology & Digital Officer, ICICI Bank. Additionally, voice support and API integration with platforms like the Google Assistant, Siri, Facebook messenger is also a possibility.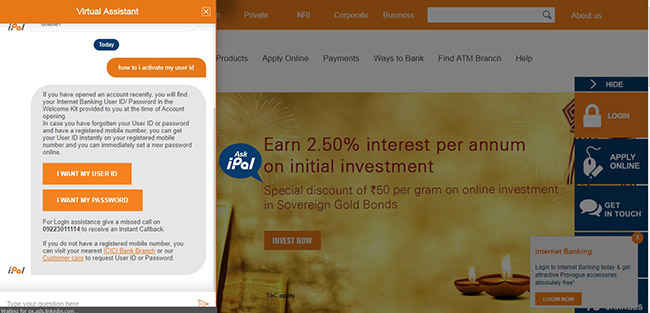 On the website, it is available on the landing page
And as a long-term goal, voice integration, taking into account the vernacular languages and accents across India, is also a possible feature. But as of now, ICICI Bank is focussing on automating simple transactions like bus booking, movie tickets etc by interfacing with suitable platforms in the chatbot.
The chatbot is currently live on the net banking website as well as the app. To use it on the app, tap on the menu button on the top left and select 'Chat' option.