Want to modernise your banking loan application?
Build an application that analyses credit risk with #IBMCloud Pak for Data on #RedHat #OpenShift
Click here to know more
Advertisements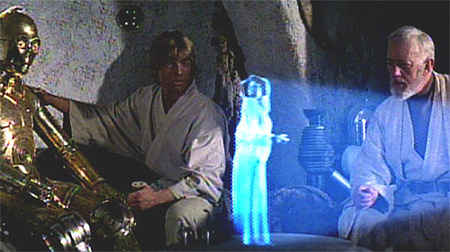 Those wacky kids in the Star Wars universe had it figured out a long, long time ago. If IBM's recent predictions are any indication, we may finally be catching up.
The company this week issued its yearly "Five in Five" list, which outlines bold technology predictions for the next five years. At the top of the list: holographic phones.
[RELATED_ARTICLE]The phones will beam holographic, 3D images of, one assumes, the person calling you. Also on the list, batteries that breathe air and cities that are powered by the heat of their own servers.
"All this demonstrates a real culture of innovation at IBM and willingness to devote itself to solving some of the world's biggest problems," IBM VP Josephine Chang told Bloomberg in an interview. Bold, sure, but a company that spent $5.8 billion (about 6.1 percent of its revenue) on research and development is allowed to dream big, right?
To put things into perspective a bit, it's worth noting that the company was a bit off with its 2006 predictions (though it does have a year to go, I suppose), predicting such things as instantaneous speech translation ala Star Trek.

Copyright © 2010 Ziff Davis Publishing Holdings Inc.